Cascade Method Book Collection!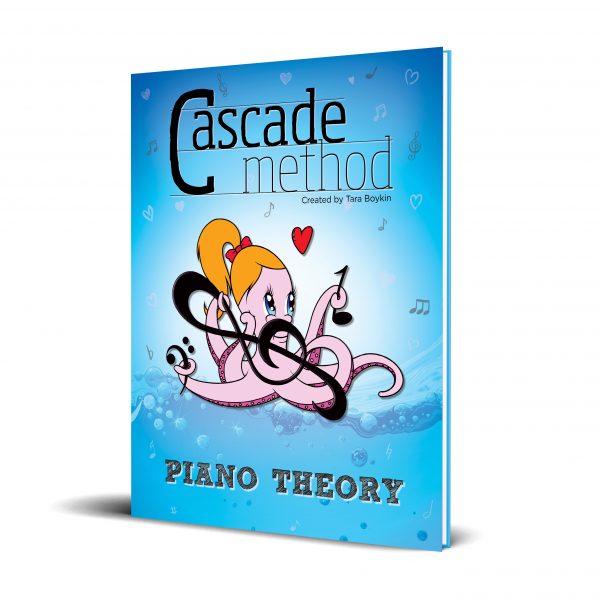 The Cascade Method Piano Theory Book teaches THEORY the Fun Way! The Cascade Method Piano Theory Book takes students on a musical journey — developing them as well-rounded musicians who are able to improvise and write their own music with all the acquired knowledge behind the magic of music! This book is a long-term investment for all students, as they will utilize and reference the book until they leave for college and beyond. It helps students to master new concepts in a fun way. The teachings within this book allow students to learn advanced skills without even realizing they are actually learning THEORY! Students can begin the piano theory book as soon as they start in their piano practice and all the way to when they leave for college. This book takes students from beginners to composers!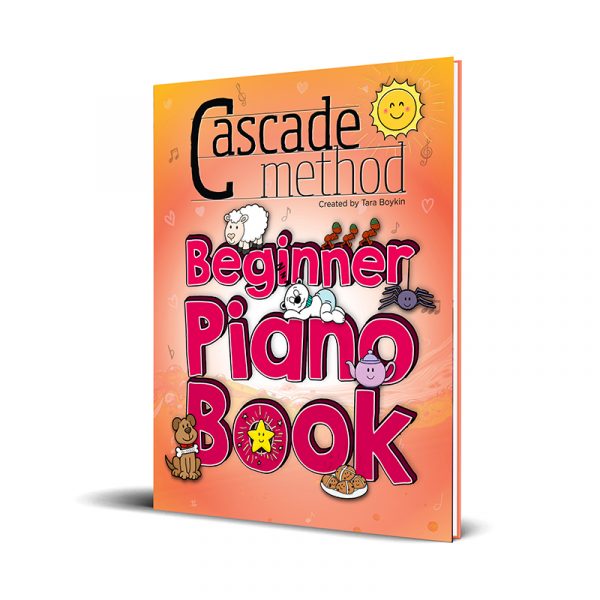 The book every beginner student needs to start playing pieces in their very first lesson What if I told you that your students could learn 27 beginner pieces within their first lesson? By using The Cascade Method: Pop Song Method, every student will know the seven white keys of the piano inside and out. This teaching approach helps students learn notes as they are physically written out like "A, B, C!" It encourages students to use their ear and removes the difficulty of reading rhythm. The Beginner Piano Book holds 27 classic children's songs that your students will recognize and feel proud to play on their own. This method makes it so easy that once your student completes one piece with you, they could finish the rest of the book all on their own! Parents will be amazed, students will be eager to learn more, and you will be so glad that you chose to purchase this book! To learn more about The Cascade Method and this specific teaching approach, head over to TheCascadeMethod.Com-TrainingCourse!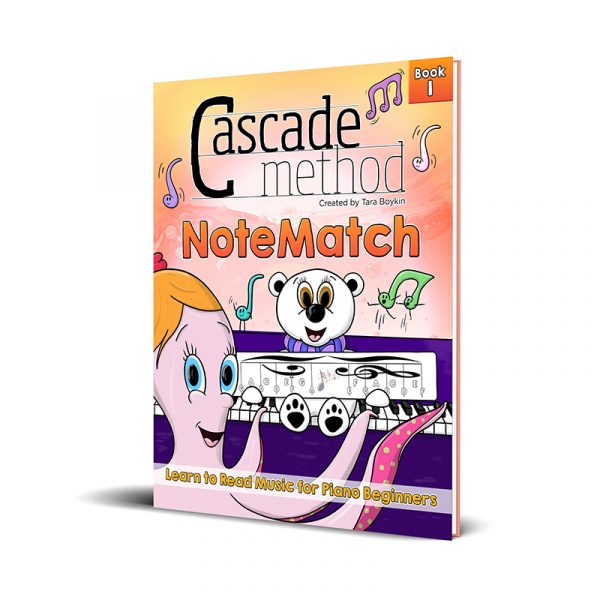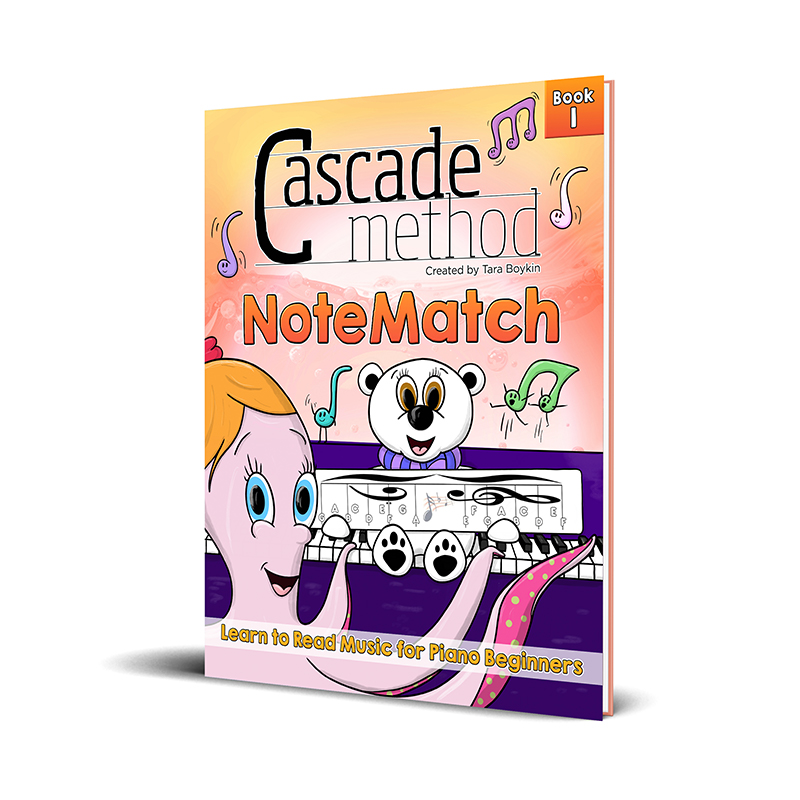 The Easiest Way to Learning How to Read Notes! NoteMatch Book 1 gives children the freedom to explore all the notes on the piano. This book pairs directly with the piano reading tool, NoteMatch, and the music note reading app, Note Rush! This fun and interactive workbook builds your student's confidence while teaching them how to read notes properly and efficiently. NoteMatch Book 1 is designed to teach students all the notes ranging on NoteMatch, which equates to 21 notes total! Book 1 sets the foundation for reading notes through weekly repetition and practice, allowing students to get comfortable with the piano in its entirety. There's no better trio for helping kids learn to read music! You won't believe how quickly your students read notes with the help of this book, NoteMatch, and Note Rush. The workbook follows the same teaching framework throughout each group of notes being taught: A mini piece, a mini composer section, a flashcard section, and a Note Rush section! Below is the knowledge your students will acquire from this book: NoteMatch Terminology; Middle C; Middle B and D; Treble Clef Line Notes: EGBDF ; Treble Clef Space Notes: FACE; Bass Clef Line Notes: GBDFA ; Bass Clef Space Notes: ACEG ; Bonus pages in collaboration with Note Rush! It doesn't stop there! In addition to learning all these notes, students will also learn how to play fun classics like Twinkle, Twinkle, Little Star, the Happy Birthday song, and many more, including original Cascade Method pieces! Are you Ready to Level Up Your Note Reading Skills?! Let's get started!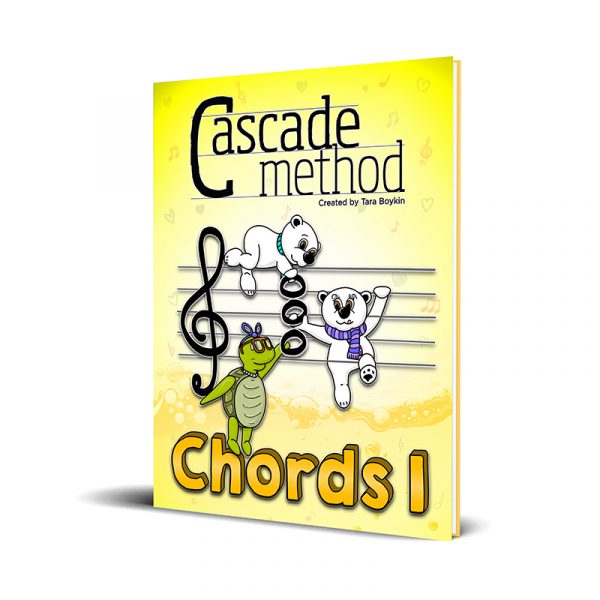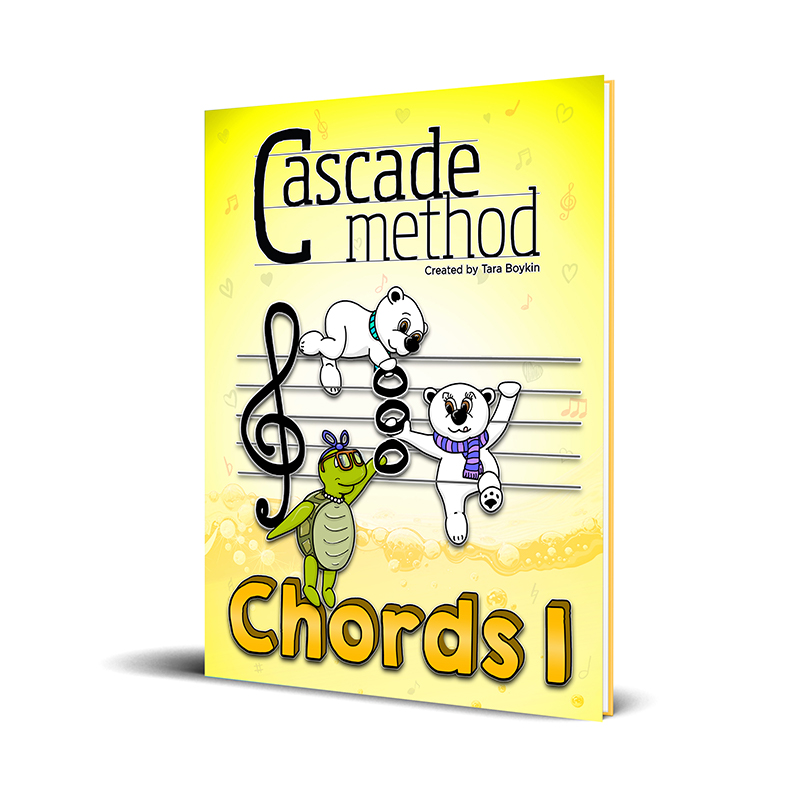 Once your students go through this book, they will never have a problem reading chords again. With the proper teaching method, learning chords is not only easy but also extremely fun! The Cascade Method Chords 1 Book teaches students every fundamental involving chords, ranging from C major and C minor; D major and D minor; all the way to B major and B minor! With a four-step framework for each given chord and additional bonus pages that are filled with fun, interactive practicing, your students will not only remember all their chords, but also enjoy studying them! The intention of the Chords 1 Book is to reinforce chord reading, teach students how to notice chords throughout any given piece, understand chord patterns, and much more! Teachers, get ready to learn fun piano teaching concepts that will surely be a hit in your studio! Learn more about The Cascade Method Teaching Program by visiting TheCascadeMethod.Com-TrainingCourse!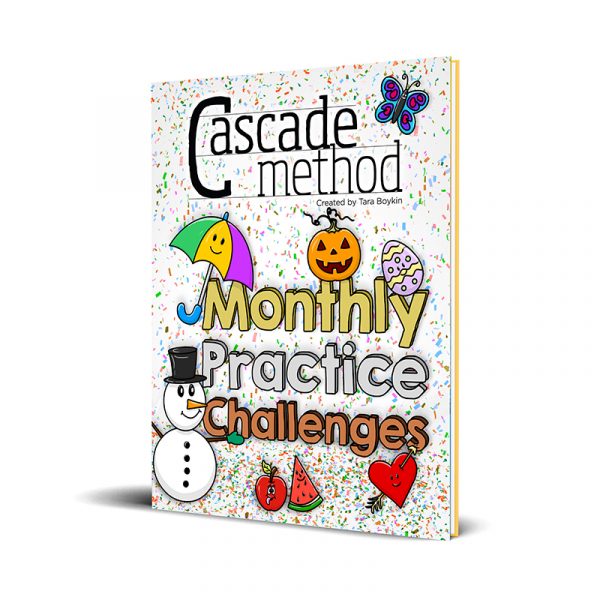 Are you up for a challenge?! The Cascade Method Monthly Practice Challenges Book is a fun and encouraging way to motivate young musicians to practice as many days as they can in a given month by coloring! The coloring book is laid out month to month. Each month starts a new challenge with a new coloring sheet! The coloring pages are designed with cute themes that relate to the current month. For example, your kiddo will be coloring a big Pumpkin in October and a beautiful Butterfly in May! Each day that your child practices within a specific month, they get to color in another bubble of that picture! If your child doesn't color in all the bubbles by the end of the month, that's okay! Once it's the first of a new month, a new challenge begins and your child has a fresh opportunity to complete more practice days than the month before! The amount of color bubbles in each picture matches the number of days in each month - encouraging kids to practice every single day! By the end of the month, they can reflect on how many practice days they achieved and start the next challenge! Once your kids complete this coloring sheet, be sure to check out The Cascade Method 100 Days to Practice Workbook! Each coloring sheet requires 100 days of practice to color in the entire picture. Ready? Set… Practice!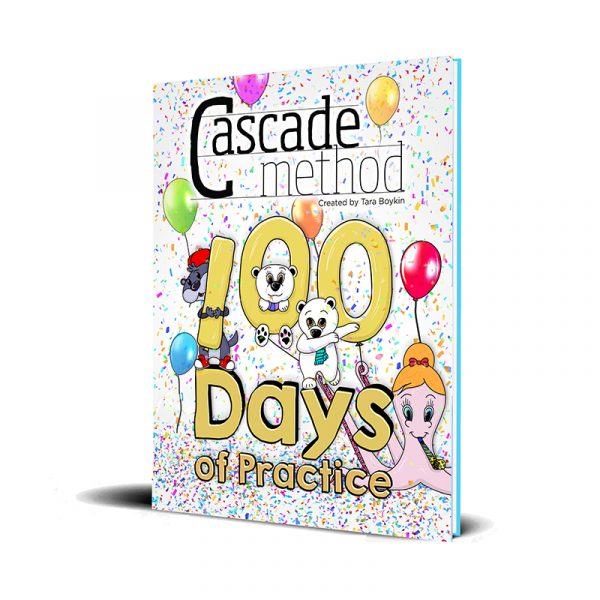 The Cascade Method is always looking for fun and encouraging ways to motivate students to practice. That's why we created this coloring book- where each practice sheet takes students 100 days to fill out a beautiful, practice-inspired picture! This practice book embraces music-themed designs, as well as fun, random designs that your students are sure to love. When your students experience this interactive concept, they'll have as much fun practicing as they do performing! After completing all 10 designs, you'll have 1,000 days of practice underway which equates to almost three years of training! Although The Cascade Method leans mostly on piano, our mission is to make musicians for life- regardless of the instrument! We hope these practice sheets help to instill a lifelong love for music through each and every page.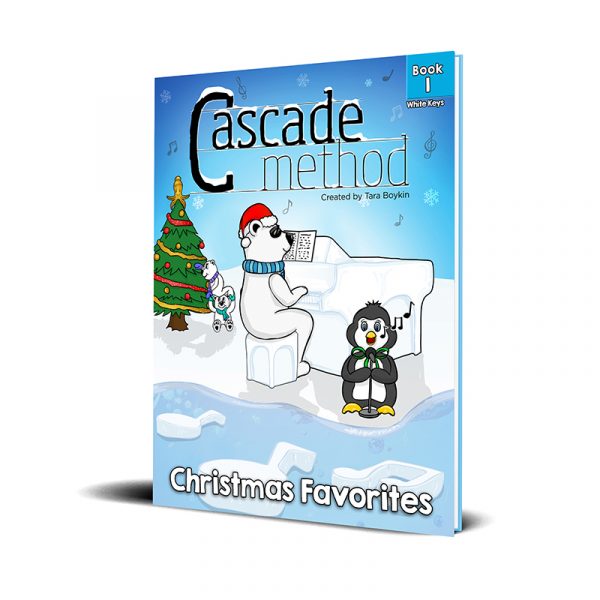 A Fun & Quick Way for Beginners or Intermediate Students to learn the most popular songs of Christmas Within a matter of weeks, your students can learn more than a dozen Christmas-themed pieces with the help of The Cascade Method: Pop Song Method. This method embraces the notes as they are physically written out; as in A, B, C- taking away the difficulty of reading music and focusing on the melody. In doing so, your students will naturally pick up the right rhythm and learn piece after piece with ease. They'll walk out of each lesson with a jingle to their step, excited for the next week of holiday fun. Watch your student's confidence and their excitement for playing the piano soar. There's no better way to welcome the holidays than sending your students off with over a dozen Christmas sing-alongs to show off to their friends and family! —— Book 2 Teaser: Believe it or not- your students are going to get through Christmas Book 1 faster than you can say "Ho, Ho, Ho!" Grab The Christmas Book Part 2 for another dozen Christmas songs! You can never have enough Christmas music!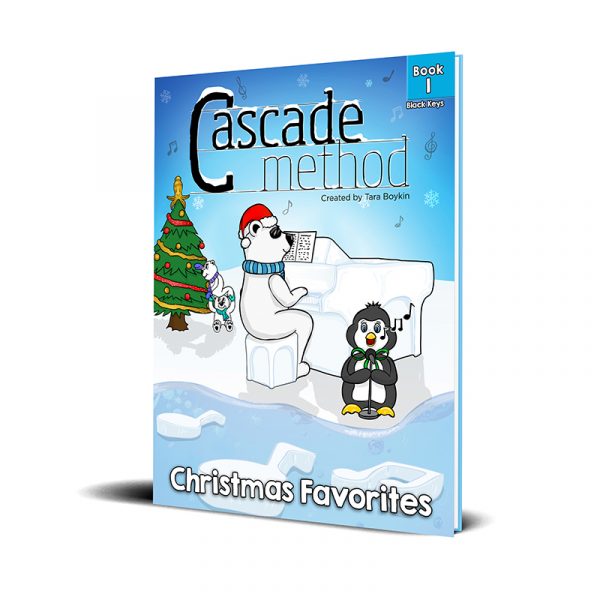 This book is the same as the book above, but each song has been written to be played on the black keys of the piano.If you're one of those teachers who starts your beginner students on black keys, this book is perfect for your students!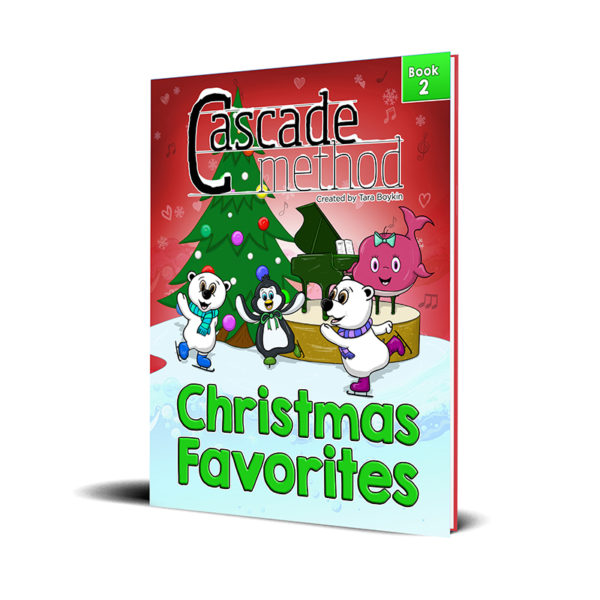 The Cascade Method Christmas Favorites books are filled with holiday classics that will equip your piano students for the most wonderful time of the year! This songbook embraces one of Cascade Method's most popular teaching methods, the Pop Song Method! This method helps students learn holiday favorites quickly and confidently by taking away the difficulty of rhythm while reinforcing the simplicity of ear training. This second book of Christmas Favorites includes 20 more sing-alongs that everyone is sure to know and love! Here's the list of songs included in this book: Coventry Carol, Carol of the Bells, Chestnuts Roasting on an Open Fire, Feliz Navidad, The First Noel, Good King Wenceslas, I'll Be Home for Christmas, It Came Upon A Midnight Clea, O little Town of Bethlehem, The Christmas Waltz, A Holly Jolly Christmas, O Holy Night, O Come All Ye Faithful, The Nutckracker Overture, The Most Wonderful Time of the Year, Jingle Bell Rock, Let it Snow!, It's Beginning to Look a Lot Like Christmas, Dance of the Sugar Plum Fairy and What Child is This? Get your hands on this book today!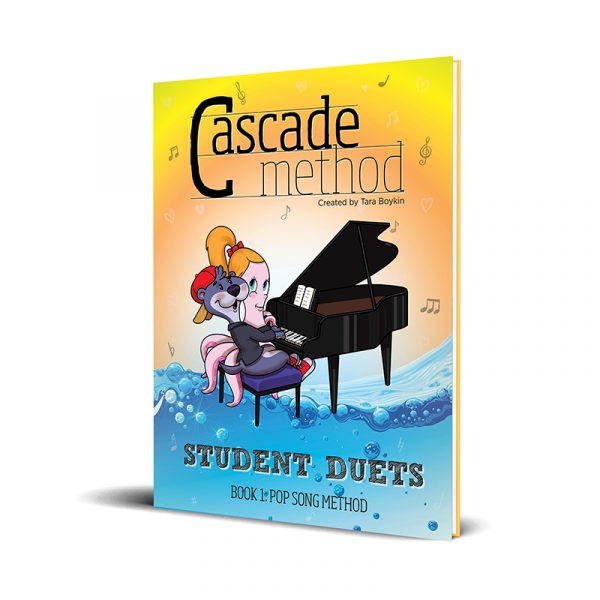 Duets inspired by The Cascade Method Students. Students that happen to be just like... yours! The Student Duets Book 1 is filled with beautiful duets that were inspired by the students of The Cascade Method Program. Tara Boykin, Owner of The Cascade Method, was having trouble continuing to create memorable duets to teach her students. She thought, why not put the power of what they play in their own hands? Just like that, a long list of incredible duets was originated from real-life students… that happen to be just like yours! Each duet begins with the help of The Cascade Method Piano Theory Book- where students will learn a scale, and from that scale, a beautiful piece is written! Tara wanted to show that teaching such a boring and mundane thing like a scale can still lead to the creation of incredible music. Once the scale is learned, students will know every single note used in the duet and gain major confidence. When you involve your students in the creation process, something magical happens. In other words, a second edition of Student Duets is sure to hit the market in no time! Recordings of each duet can be heard on Youtube, Spotify, or Apple Music!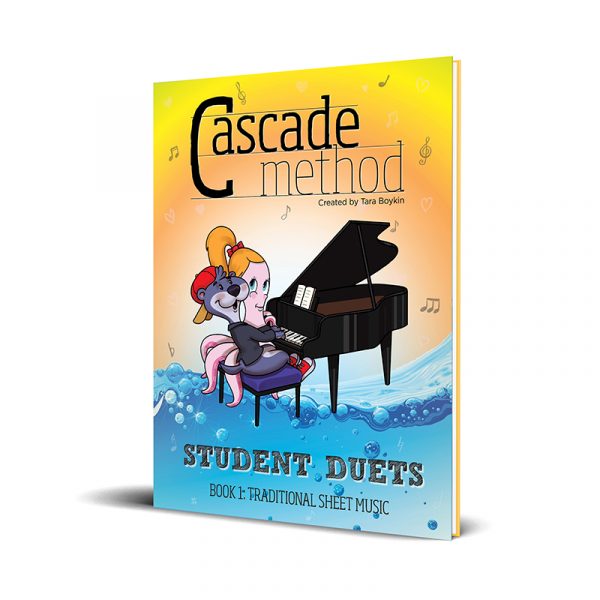 Duets inspired by The Cascade Method Students. Students that happen to be just like... yours! The Student Duets Book 1 is exactly like the book above, but published under a different format with Traditional Sheet Music. For those of you who are not familiar with Tara's Pop Song Method, you will most likely prefer this version of the duet book. Keep in mind that the duets range from no sharps and flats, to at least three sharps and flats. This should help you decide who would best benefit from this book in regards to their piano level! Recordings of each duet can be heard on Youtube, Spotify, or Apple Music!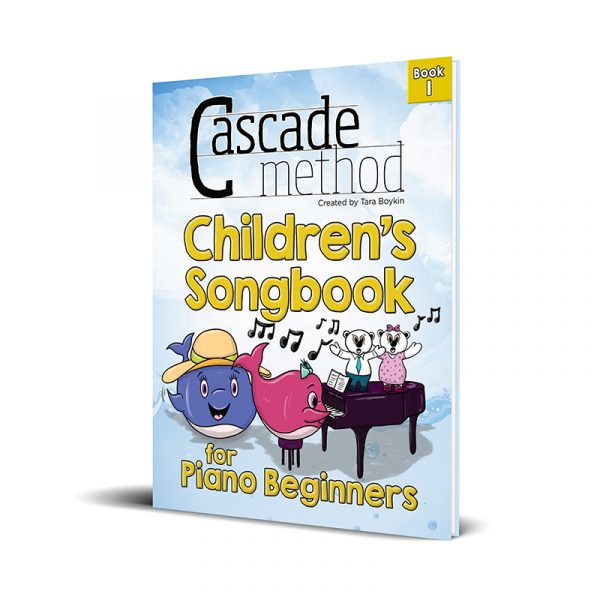 The Cascade Method Children's Songbook for Piano Beginners is filled with our Top 22 favorite hymns and songs from the official songbook for children. From classics like "Away in the Manger" to exercise songs like "Head, Shoulders, Knees, and Toes" and beautiful hymns like "I Am A Child of God," this songbook allows little pianists to embrace the gospel with ease! The Cascade Method provides a unique method to simplifying pieces for the piano. The arrangements are easy to follow and filled with colorful, kid-friendly designs that will surely make this songbook a child's favorite! Tara Boykin is the founder of The Cascade Method and has published a full piano book collection that embraces her fun teaching style and techniques. Aubree Vantienderen is a member of The Cascade Method Teacher Training Program and collaborated with Tara on the creation of this specific book. You can learn more about Tara, her program, and her method by visiting TheCascadeMethod.com and more on Aubree, by visiting Aubree's Piano Studio Facebook Page.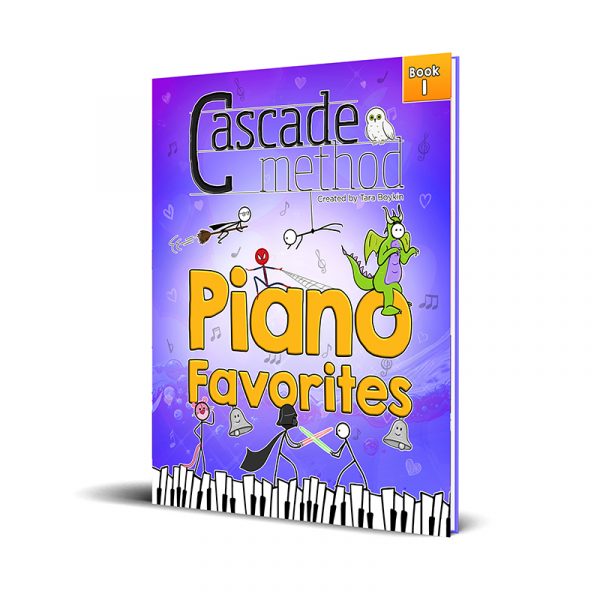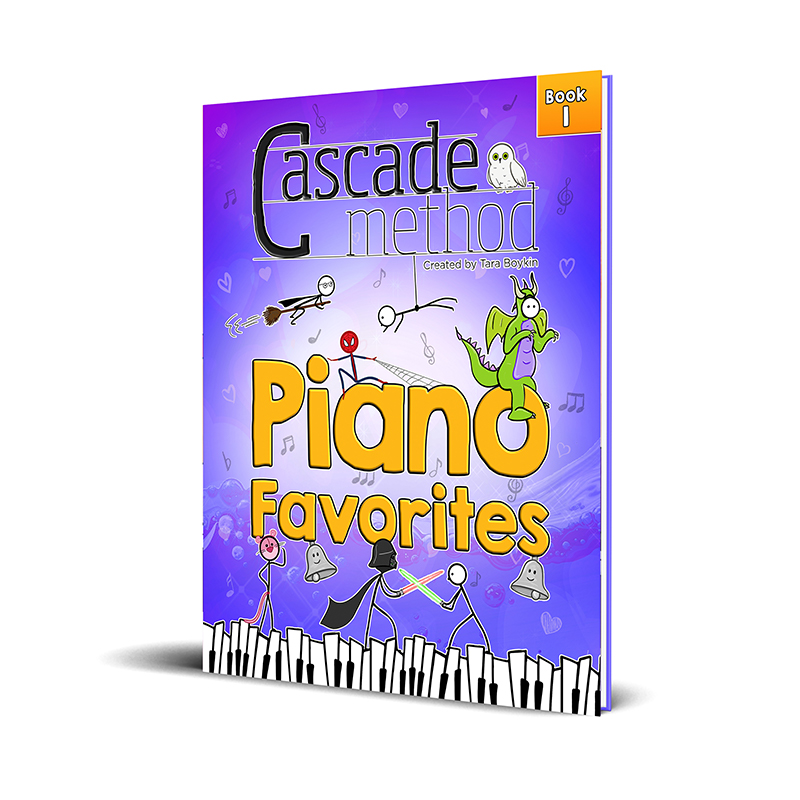 Everybody's Favorites to Play on the Piano, designed for Older Beginner Students: The Cascade Method Piano Favorites Book 1 is a collection of everyone's favorite classic and popular pieces played on the piano. From Für Elise to The Pink Panther Theme, this book teaches beginners of all ages the world-renowned pieces that they'll be proud to play all on their own. Piano Favorites Book 1 is taught with The Cascade Method Pop Song Method, and is intended for students who are early in their practice yet have acquired some piano experience. This teaching approach helps students play extraordinary pieces quickly and easily by learning notes as they are physically written out — taking away the difficulty of rhythm while reinforcing the simplicity of ear training. By incorporating this book into your note-reading lessons, your students will learn beautiful, famous pieces and gain immediate confidence in their passion for piano. BEST FOR AGES 8 AND UP!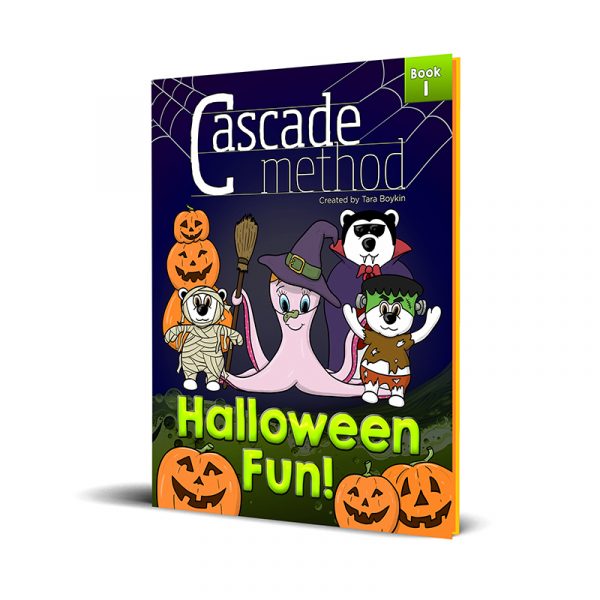 Wickedly Cute Duets for the Most Spooktacular Season! Put on a frightfully fun piano practice with the Cascade Method Halloween Fun Songbook! Filled with 10 spooky original Cascade Method duets, this songbook is a must-have for the Halloween season! Laid out as traditional sheet music, this songbook also happens to serve as a coloring book with pages covered in creepy crawlies, spooky ghosts, and dancing skeletons! Get ready for some BOOitful pictures once your students have finished learning each song! Here are the 10 original compositions you'll find in this book:Trick or Treating Ghosts, Skeleton Waltz, Moody Magic Potion, Graveyard Monsters, Pumpkins in Cahoots, Dracula's Sonata, Colluding Cats, Under the Witch's Spell, Misbehaving Bats, and Creepy Crawly Spiders.