Designed as a grand staff made of magnetic, whiteboard material, NoteMatch sits directly behind the black keys of the piano, allowing students to see exactly where the notes in their sheet music correspond with the keys on the piano.
Because of its writable and erasable material, NoteMatch can be used song after song, until you or your student is an expert sight reader! Its perfect dimensions fit nice and snug on ALL pianos — from keyboards, to uprights, to grand pianos! With the help of this piano reading tool, your students will learn to read music in their very first lesson.
This tool is the missing visual element your students need to comprehend sheet music.
If there's anything all piano teachers can agree on when it comes to teaching piano to kids it's that we need tools that help US as much as THEM! 
NoteMatch does the work for you!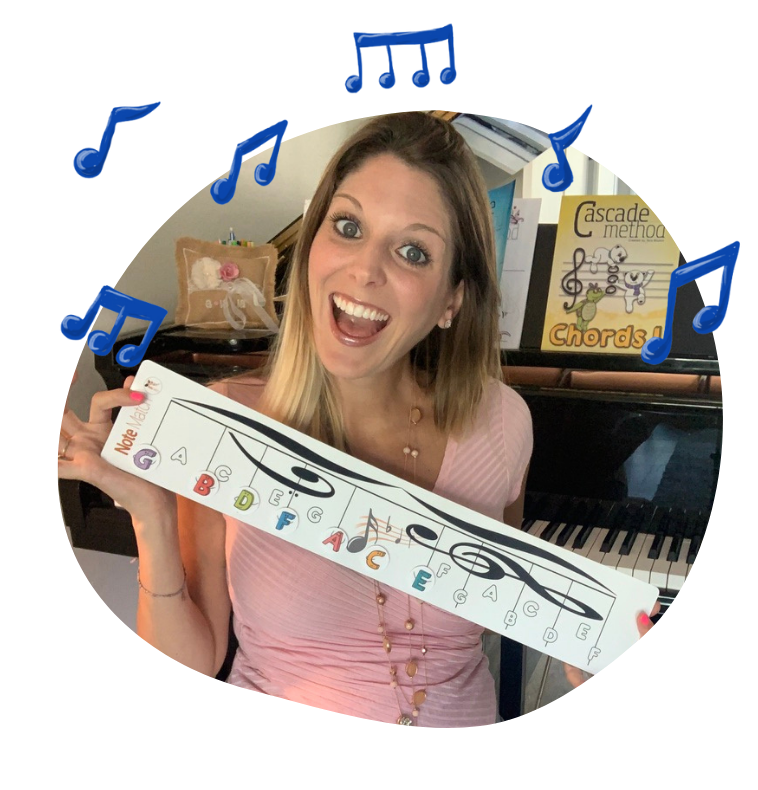 ... all while having fun!
ummmmm….. YES PELASE!!!!
Not only does NoteMatch help all piano beginners understand the correct location of notes on the piano, but it also allows students to experience hands-on learning. Made of magnetic material, students can color directly on the tool or play fun, interactive games by using magnets and whiteboard markers!
It's the solution to sight reading!
Teach Your Students to Read Music
The visual tool that helps all ages read music
in a fun and interactive way
What are teachers and students saying about NoteMatch?
NoteMatch has helped so many pianists understand the location of notes, as well as helped teachers instruct on note reading! The success stories that have come from the creation of NoteMatch are unbelievable. With the help of this piano reading tool, your students will learn to read music within just one lesson!
"Notematch Is Key!"
I began learning piano at age 48(!) and had only limited musical experience. In particular, I didn't know how to read music. Learning piano and learning to read music is like trying to pick up two foreign languages at once. Notematch was key to my progression. I didn't need to spend time searching blindly on the keyboard for what note to play. Notematch allowed me to just focus on my finger skills and fluidity.
""Read Notes In 5 Minutes!"
What an invention!!!!! NOTEMATCH will help you learn how to read your notes on the keyboard in FIVE minutes! Yes, it is true!
"I Couldn't Believe The Difference!"
My 8 year old daughter started using it a few months ago and I couldn't believe what a difference it made. She enjoyed choosing her own silly words and it helped keep her from getting frustrated when she forgot notes.
"Perfect For All Piano Students – Even Advanced Students!"
I have been playing piano for six years but this is my first year playing with Notematch and I love it! It helps me play more advanced pieces and reinforces where the notes are on the piano. I would encourage anybody who sometimes struggles with their notes to buy this product, even if you consider yourself advanced.
The Fun Piano Method Book that Pairs Directly with NoteMatch!
Introducing NoteMatch Book 1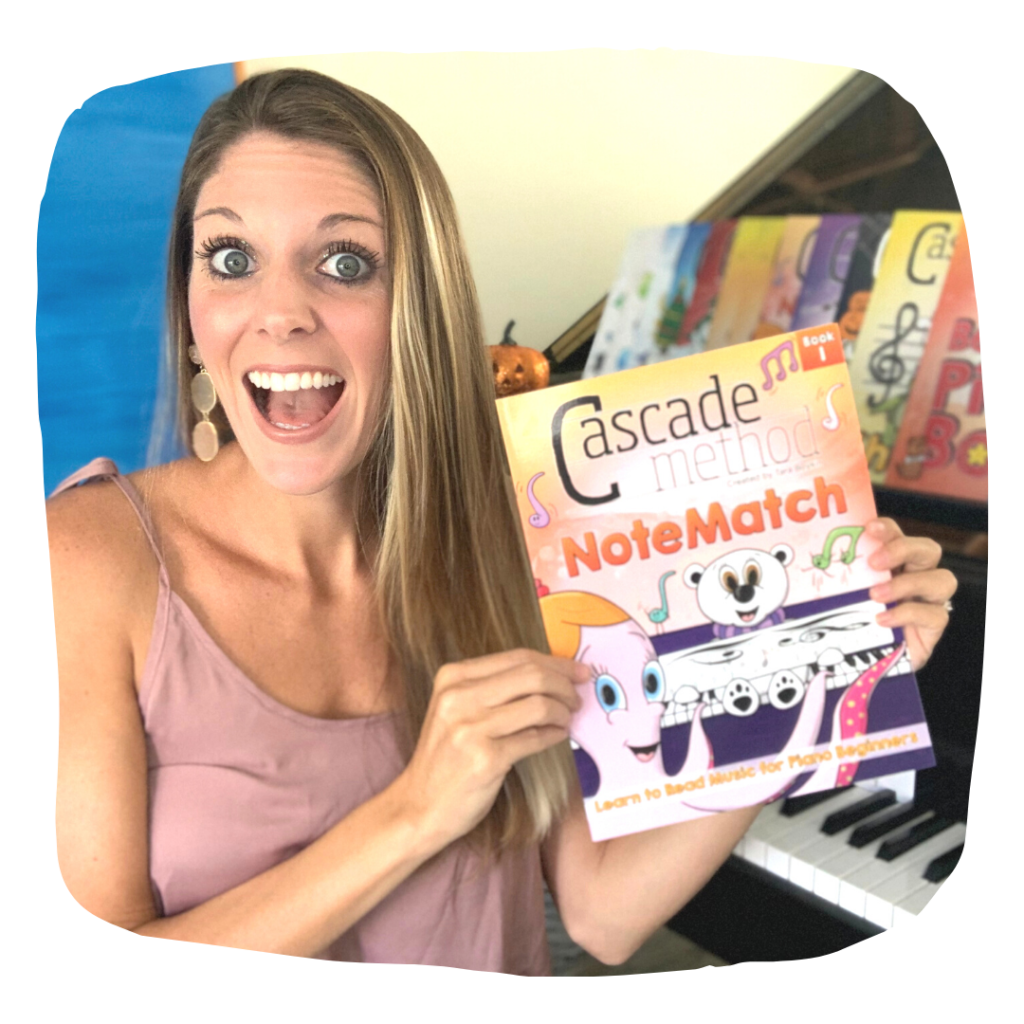 A book that teaches students to read from scratch
With fun and interactive pages, this method book doesn't feel like work to students! 🤪
The book is covered in cute illustrations and incorporates the note reading game app, Note Rush, which is an app that all students LOVE! It's never been easier to learn how to read notes!
NoteMatch bridges the gap
between reading music and understanding where those notes are located on the piano.
Take it from one of our own Cascade Certified Teachers, Betsy! She gained 26 students in a month, and it just LOVING her online lessons with the help of the NoteMatch piano reading tool paired with the NoteMatch Book 1!
Woohoo! Ready to teach notes the easy way!?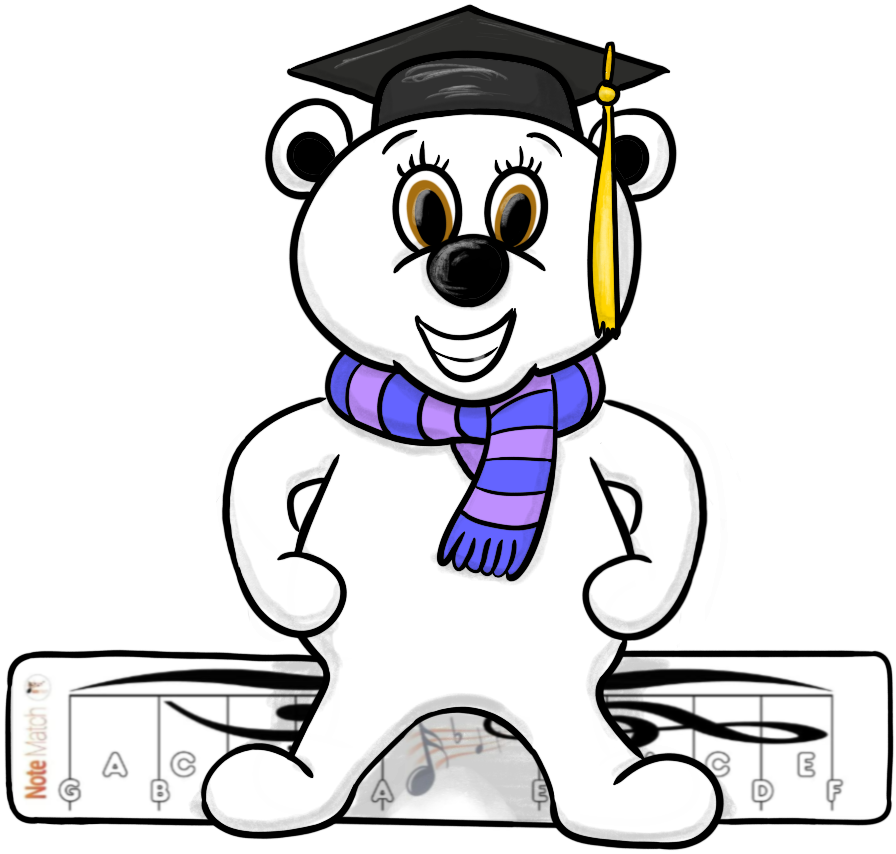 Let's just say this is the perfect MATCH for your students 🎶
Pair more fun with NoteMatch by shopping our Piano Method Book Collection and fun, corresponding games and sheet music!