Just like my creation of NoteMatch: The Piano Reading Tool, my piano theory book started the same way. A piece of cut-up paper, a crazy idea in my head, and the help from others, the Cascade Method Piano Theory Book was born!
Why a Piano Theory Book?
It all started when I noticed this trend, where I was drawing tables and grids in my student's notebooks for scales and chords. I'd have them check the box when they learned a specific chord or scale. Before I knew it, I was doing this for all my students.
To save me some time, I started creating a "chords" page and "scales" page in Microsoft Word. Once I had enough content created, I would print them at home and at FedEx. I picked a back and front and had FedEx bind them together for me. It was pretty homemade, but all my students had one and it was working really well during my lessons!
It started to get pretty costly buying thick paper and going through FedEx, so I bought myself an expensive hole puncher which in the end, would reduce my cost, and started binding them myself for about a year. Finally, I just came to the conclusion- it's time to make this a real piano theory book.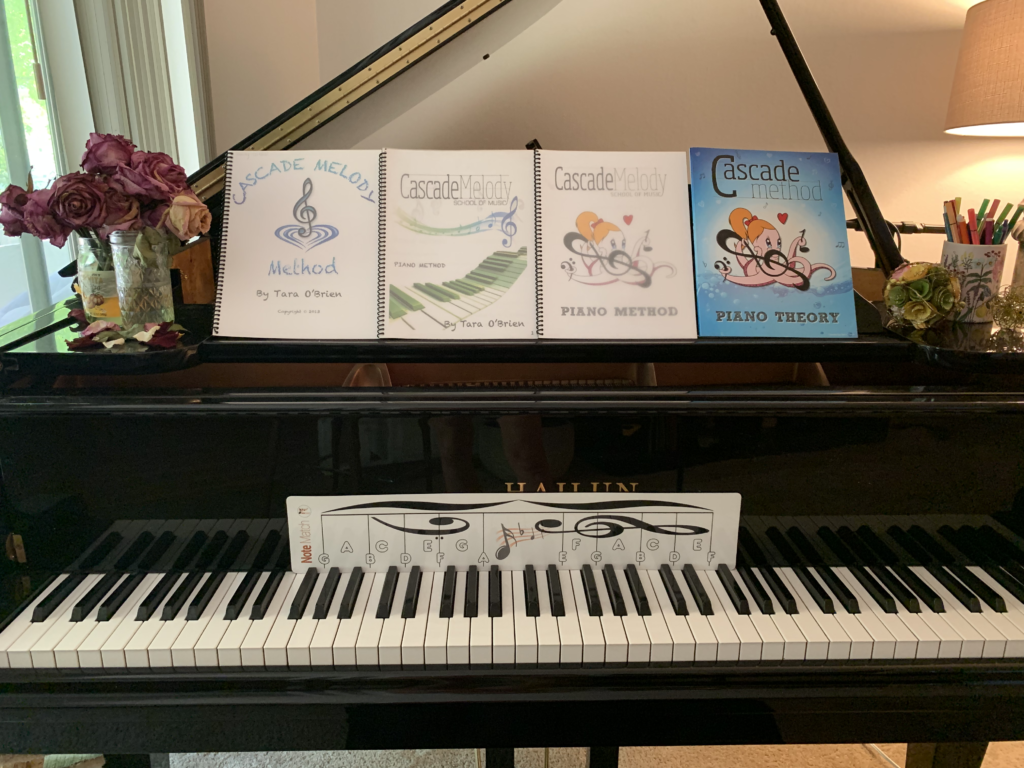 How The Cascade Method Piano Theory Book Hit The Market
After six years of perfecting and learning the industry
process, The Cascade Method hit the market.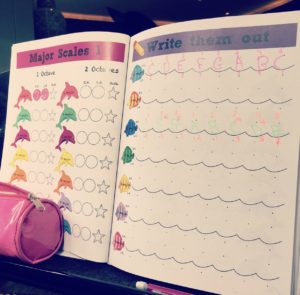 Looking for a design company was quite an annoying process, to say the least. It took lots of research, comparing costs, and reading up on company statistics. I finally decided to go with Amazon's book printing company. It was called Createspace at the time but recently changed to Kindle Direct Publishing.
Throwing it back to the FedEx printed-copy days, the page format used to be all random shapes and sizes throughout the book. In order to give it a more cohesive look, I decided to make it a theme and hired a graphic designer to replace all the random shapes I had into little sea animals because the term "cascade" makes me think of the water. (This is why my business is underwater-themed)!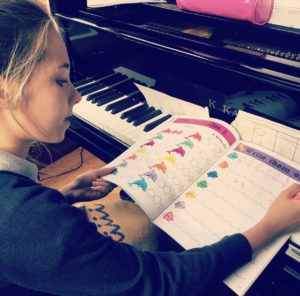 I was blessed to have a brother with graphic design skills! I hired him a few months later, before the book was going to be published, to take the little shapes the other designer did for me to a whole other level. My brother knows me better than anyone and we were able to sit down and tweak it together to make it 100 percent perfect.
We made the book super colorful and vibrant. It really started to come to life.

Watch my brother, Thomas O'Brien, design the Cascade Method from scratch! Visit his website to see if full portfolio. If you need a graphic designer, he literally can do anything!
Who can benefit from this Piano Theory Book?
Anyone can benefit from this piano theory book, as long as you have someone to teach you theory concepts! The Cascade Method Piano Theory book was intended for my students, but I wanted to create something that ALL piano teachers could use in their lessons.
The Cascade Method offers everything a pianist needs during their piano teaching. Instead of having 50 different- and might I add, boring and colorless theory books, the Cascade book can take you from Beginner, all the way to Composer status! When students can compose and write their own music, I feel my job is done! That means I've given them ALL the tools they need to understand the structure of music. They can use this up until they leave me for college and I think that's pretty powerful.
Once I knew my students were taken care of and the book was officially on the market, I finally began my training program, The Cascade Method Training Program!  I needed the book to be done in order to start teaching HOW to use it, ha!
I never thought my piano theory book would evolve into what it is today. From paper scraps to my students homemade print-outs, to full, 76-page books on Amazon- wow. I'm humbled to say that the very first teacher I hired for Cascade Melody School of Music taught her students with the very first Cascade Method Piano Theory Book. Now, my teacher Training Program is flourished into another thing I couldn't have ever imagined, but that story is for another time.
Want to see what the
Cascade Method Piano Theory Book is all about?

Order your copy through our online shop or Amazon today!

Watch me, the Founder and Creator of Cascade Method show the full evolution of the final Piano Theory Book!