If you've ever had a student on the verge of quitting piano, you are not alone! 
And while it may feel disheartening as a teacher, we really can't fault kids for not wanting to practice piano…if it isn't very FUN for them!!
Hmmmm, if only there was a way to make learning and playing the piano fun…
ENTER: The Pop Song Method 🥳🎶🎹
I classify pop songs as any song you hear on the radio. They are typically easy songs to play on piano as they usually only have 3 to 4 chords. All it takes is a little practice.
Teaching pop songs is an ear training method I've developed that allows students to have freedom in learning almost ANY song they want, all while taking away the difficulty of reading music notes and rhythm. Not only does the Pop Song Method build your students' skill sets (in regard to ear training and understanding chords) but it also gives them a complete mental shift when they start to learn pop songs.
I loooove to ask students their favorite song and then see their eyes light up when I tell them they'll be able to play it….along with all their other favorites!
 Once they know they can play the music that they like, they're much more involved and willing to learn.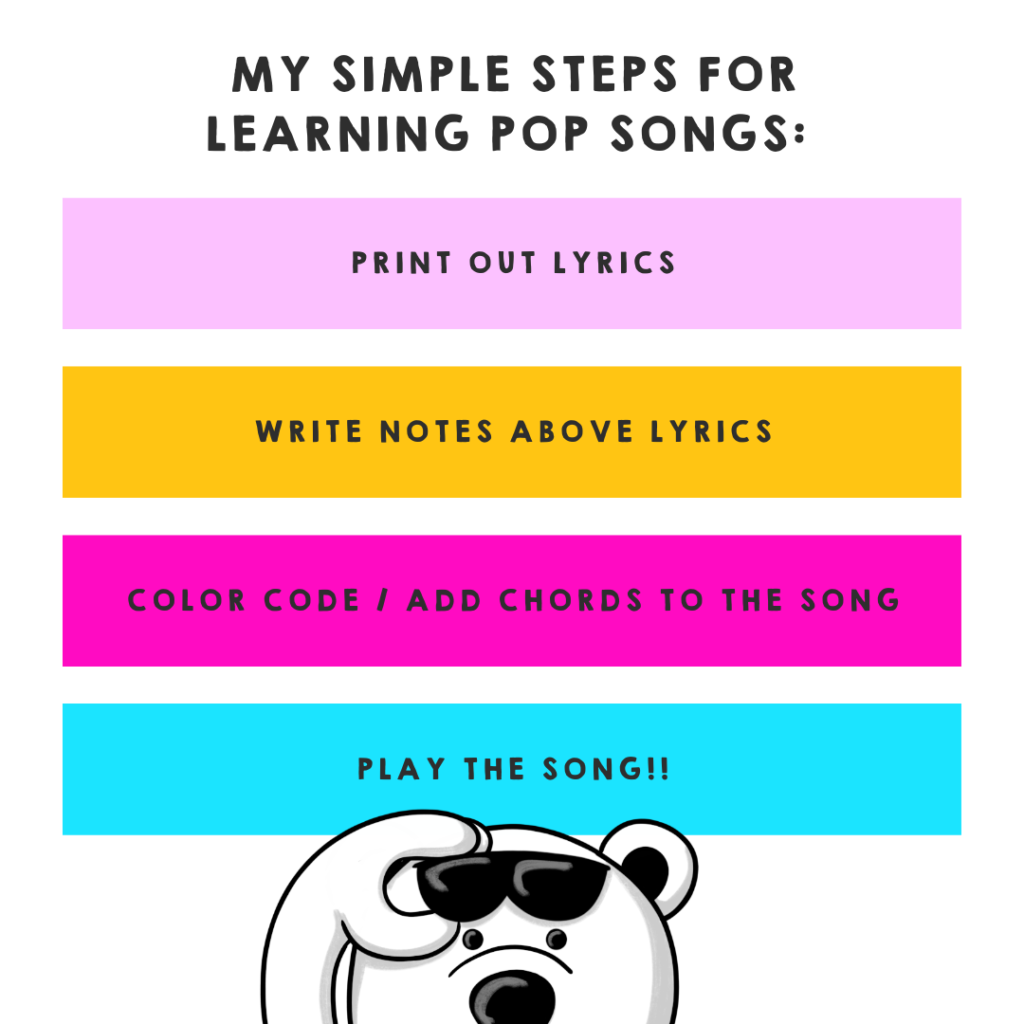 BUT if you want detailed step by step training….
My Pop Song Method Mini Course will walk you through how to teach students to play any song they want by learning how to type out songs using letters with their current chord knowledge.
For today, I'm giving you the scoop on my must have resources for teaching pop songs!
*Just for reference, I always teach pop songs in the original key! Make sure it is doable for your student's current level and use your best judgment*
I use Spotify to pull up the song so that we can listen as we learn! Apple Music or YouTube are great too, as long as you can hear the song in its original key. Teachers, I probably don't need to tell you, but make sure you have listened to the requested song before playing it.
I like to use Microsoft Word, however Google Docs or Pages also work great! Once you have your lyrics copied, you will want to paste and format in your word processor before printing.
My three simple steps for formatting your pop songs:
Use a font size of 12 or 14 for good visibility while playing.
Change the font – but keep it easy to read!
Double space the document so there is enough room to write the chords over the lyrics.
If there is only one app that you have to buy, I would suggest Guitar Tabs!! This app is AMAZING for chords.
Once you find the song you are teaching, transpose it so you get the original key and then you can start color coding the lyrics by chord.
*In my mini course I will show you different ways to color code because students learn in different ways. 🙂
If you still aren't convinced that the Pop Song Method is worth it…
I have a blog that actually reveals the method behind my Pop Song Method
In it, you'll get full access to THREE video pieces of my training program that show each step I take during a pop song lesson! You'll even be able to watch DOZENS of videos of my students playing pop songs!!
Basically, you're getting one full unit of my Pop Song Method Mini Course! But… there are over 30 units in the pop song module… 😉 So, go ahead, check out what I'm offering for free and then let me know when you're ready for the full thing!! 
Clearly I am passionate
…but for good reason!!! Teachers, I have seen this method work time and time again. Let's transform those piano quitters into lifelong piano lovers.