Going into 2020, I made a list of books I planned to launch to the market within the year. I am thrilled to say that I've been consistently adding to the Cascade Method Book Collection and one of my favorites is finally released: The Beginner Piano Book! 
Oh boy, am I excited about this one! The Beginner Piano Book is seriously the book that every beginner pianist needs. If you are a piano teacher, YOU NEED THIS BOOK! Not only will your kids love playing the well-known songs that are throughout this book, but they'll also have FUN while learning AND they'll be able to play FULL PIECES with just one lesson!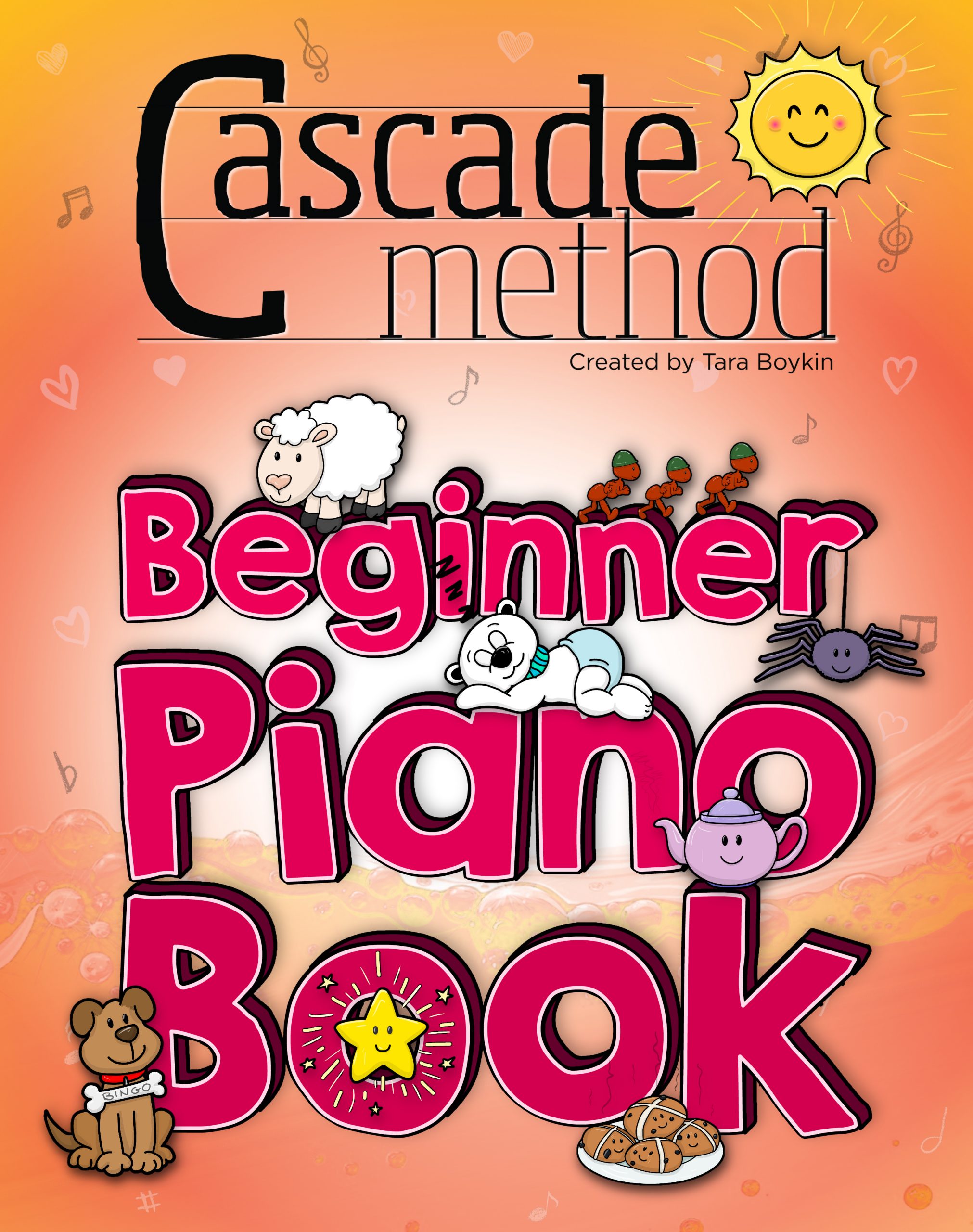 Well, there's always a few things that make it special when it comes to the Cascade Method! For starters, the purpose of The Beginner Piano Book is to reinforce all the seven white keys, which I believe to be the foundation of freedom in learning the piano.
So many times, I'll start lessons with students coming from other teachers and the student still doesn't know their white keys inside and out! I want kids to know their white notes so learning pieces can be so much easier for them. There's already enough to remember, read, and understand when it comes to music notes. This book will eliminate that difficulty, which is one less thing to worry about when playing!

Once your students give their hands on this book, there is NO WAY that they won't be able to understand and notice white keys within any given piece! 
How does this beginner book truly hook kids on understanding the white keys?
Well, that's the other special touch to this book! Students will learn all seven white keys with ease by the instruction of the Cascade Pop Song Method! 
What is the Pop Song Method, you ask? It's a FUN WAY to teach piano to kids!! Obviously, this method uses pop songs to teach students how to learn notes as they are physically written out, as in A, B, and C! 
Each pop song that I teach is taught in the original key by reinforcing ear training and chord knowledge. When students focus on using their ear rather than learning the rhythm, it takes away the difficulty and just builds their confidence and memory! 
You can read all about my ear training pop song method where I reveal it all… (including FREE training videos from the Cascade Method Teacher Training Program)! 
If you're truly interested in becoming an expert in pop songs, as well as other fun methods and techniques, you should grab the title of a Cascade Method Certified Teacher!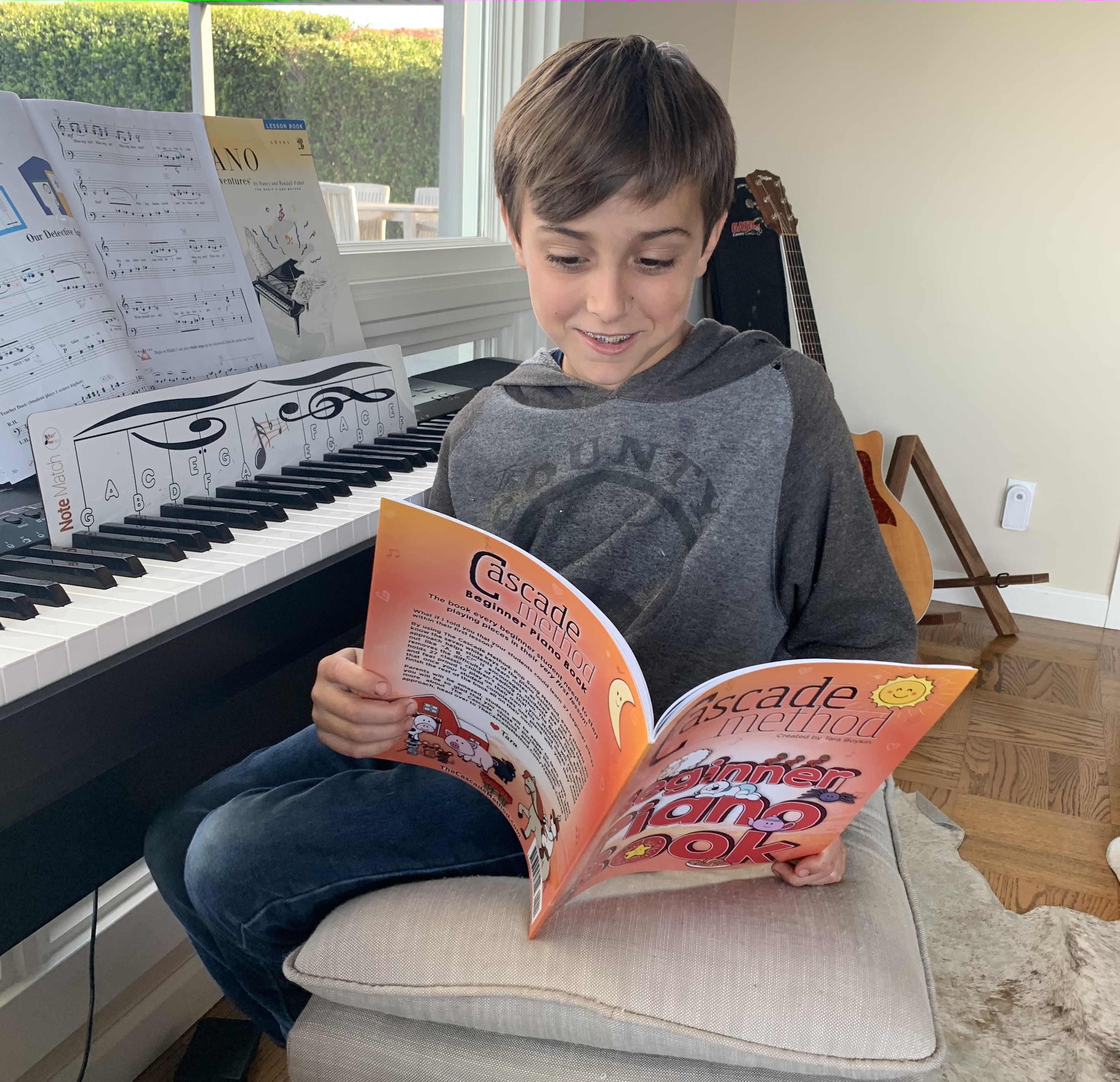 Why Your Beginner Students Need This Book
You may think I'm biased since I'm the creator of the book and the method being used, but truthfully, the reason I want this book in your lessons is that you will have so many happy and confident students. 
Learning the piano can be frustrating, overwhelming, and- to some, even boring. The reason I go on and on about this method is because of how my students feel after they learn it. Especially for beginner students, it can be hard to stay positive when you just don't seem to get it. 
Imagine one of your brand new students walking out of their first lesson knowing how to play one of the most popular songs of their childhood (or multiple songs)?! I'm pretty sure we can assume that they will be so excited to go home and show off to their parents and come back next week, eager to learn more! 
That's what this method does. It builds confidence AND memory. It takes the pressure off the child and allows them to just listen and play!

Ah, I just love it so much and I know you will, too.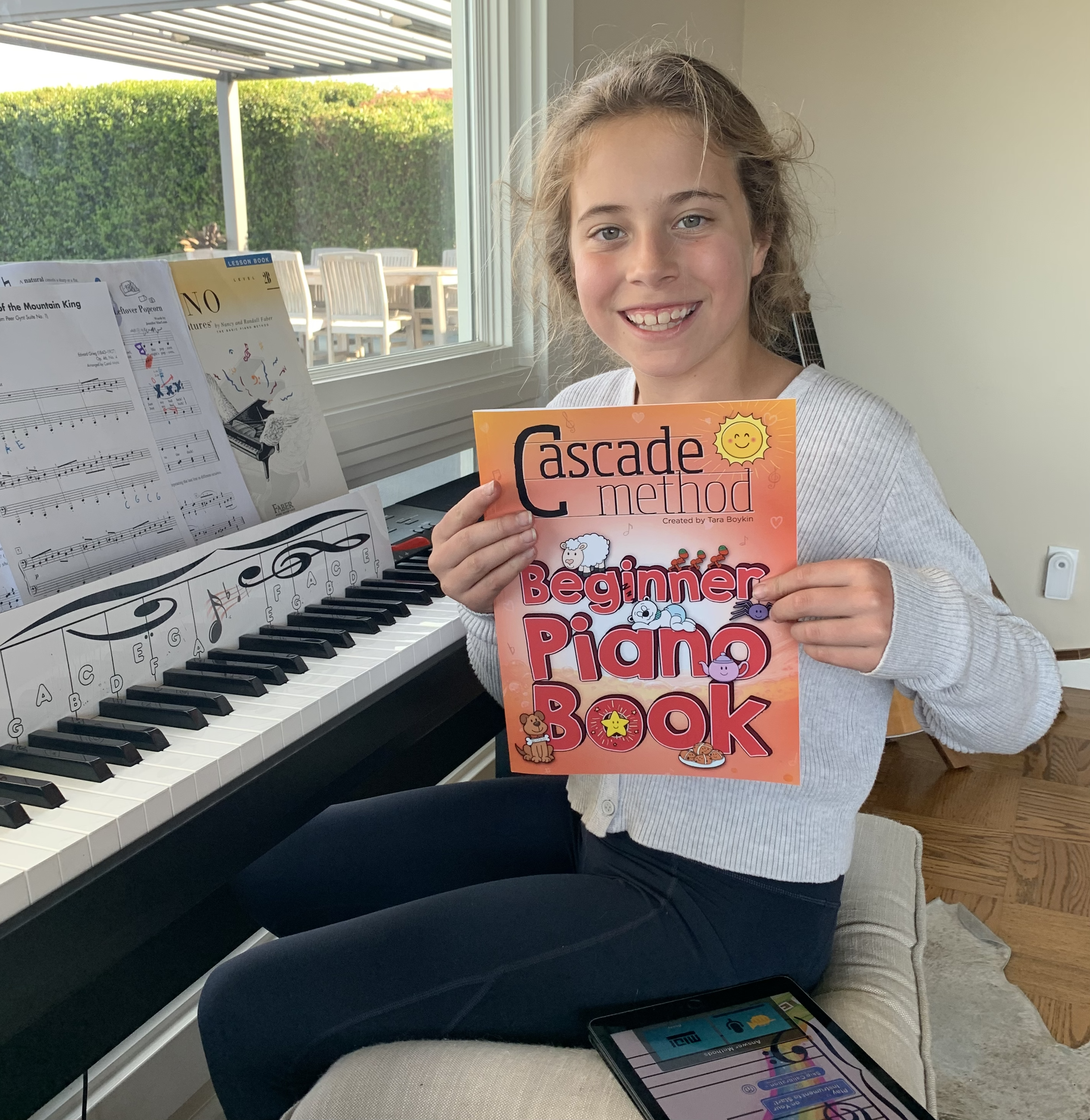 Let's Take a Look Inside the Book! 
Now that you understand the learning format of the Beginner Piano Book and you also know why your students are going to LOVE IT, here is every beginner piece that will be offered in this book, as well as a sneak peek of the adorable and colorful pages that your students will practice in! 
This book is filled with 27 classic children's songs that your students will know and LOVE to play on their own! Once the book is completed, the final page is a cute little certificate that your students will be proud to show off and know that they earned!

There should be nothing stopping you from bringing this workbook to each lesson for your beginner students! Watch their confidence soar as they learn all 27 pieces in as little as ONE WEEK!!! Watch this video of my (six-year-old) student playing, "Pop Goes the Weasel" – which happens to be an expert-level song! It takes patience but you can see that he's playing the right rhythm… at the age of six! Needless to say… 
The Pop Song Method Works!
If you have any questions about the Cascade Book Collection or the Cascade Method Teacher Training Program, feel free to leave a comment below or email Tara directly! All questions are welcome! 
Purchase the Studio License Version and get unlimited PDF print for life!
Shop it on Amazon!
Order through the Cascade Method Online Shop!