Translating my piano books has been on my bucket list for quite a while – and what better language than to start with one that I'm fluent in: FRENCH 🇫🇷
I decided I would start with translating my Beginner Piano Book, since it's a popular one…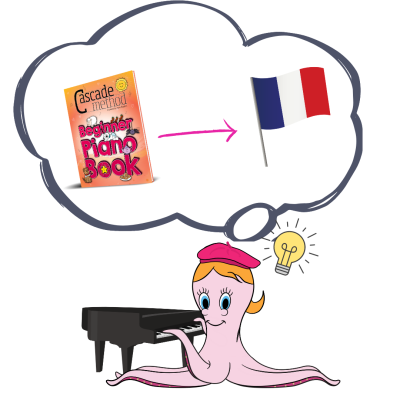 …but then I realized translating all the English pieces to French made no sense because the kids don't know the songs. 😅🤦🏼‍♀️
 Sooooo I recreated a beginner piano book with popular French songs that kids would be excited to play. 🙌
(I am also lucky that I'm French and grew up listening to these songs so I knew which ones I liked and could go in the book.)
FRENCH BOOK HIGHLIGHTS 🇫🇷
TELL ME MORE ABOUT THIS FRENCH BOOK… 🥖
Besides the fact that this is one of my most popular books, it is such a confident booster for beginner pianists! As you know, I am all about making piano FUN, and this book does just that. 🤩
Both the English and French piano book use the Cascade Method: Pop Song Method that helps students learn notes as they are physically written out like, "A, B, C" or "Do, Re, Mi." 
It encourages students to use their ears and removes the difficulty of reading rhythm. This method makes it so easy that once your student completes one piece, they can finish the rest of the book on their own! I see it time and time again – the beginner piano book really gets kids eager to play and practice. 👏🎹 
If you have students learning with Do Re Mi and want to learn beautiful French songs, this book is for you!
If you know me, you know I love songs in minor keys and sooo many of these are!
I am so excited to share this book with you all and I hope you are excited as well!!
Oh, and you can also find my Chords I book called "Accords de Piano" already translated and available on Amazon!