A lot of us were taught piano the traditional way…
…by reading music.
We weren't taught chords and we definitely weren't allowed to use our ears to learn songs (heaven forbid!) 🤯
Well forget that! My Pop Song Method Mini Course walks you through how to teach students to play any song they want by learning how to write out songs using pop symbols with their current chord knowledge. This allows students to have freedom in learning almost ANY song they want, all while taking away the difficulty of reading music notes and rhythm.
Students love this method because: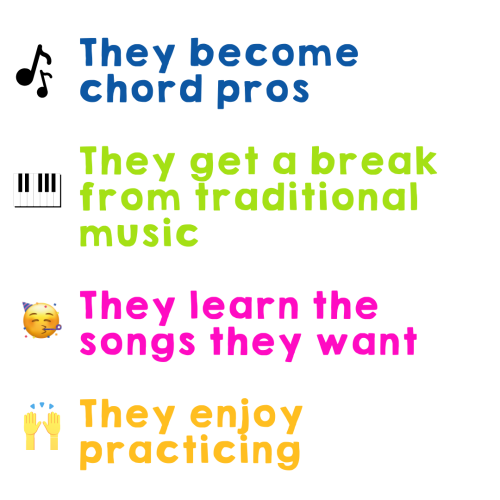 Pop Symbols and Chords Workshop
Get comfy and watch this workshop as I walk through the process of figuring out and identifying chords with symbols to play pop songs! ⬇️
Check out everything that is covered in this workshop! ⬇️
Pop symbols help kids understand the process of chords. It makes sense of the chords so that it's easier to remember.
Simple. As. That. 😎
For this workshop, I reference pages from my Piano Theory Book. This book is ahhhh-mazing for anyone learning piano. It is a long-term investment for all students, as they will utilize this book until they leave for college (and beyond!). It has a total of 76 pages, this book helps students master new theory concepts in a fun, encouraging, and interactive way. 🤩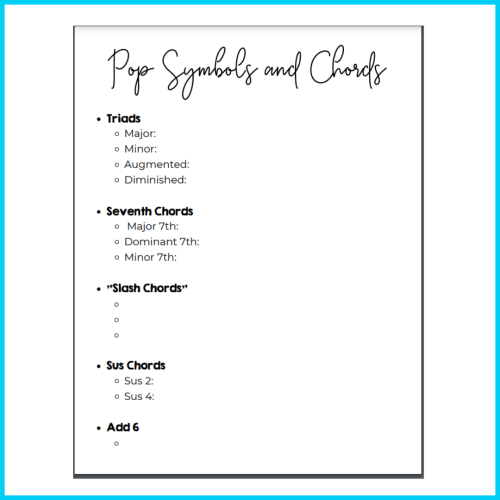 ⬆️Throughout the workshop, we will find the pop symbols for Triads, Sevenths, Slash Chords, Sus, and Add 6 chords found in the Piano Theory Book.
I will walk you through each of these pages (plus more 😉) with an in depth step-by-step process on how to find and teach kids pop symbols!
Don't forget the practical application…
For the last portion of this workshop, we will walk through how to apply the knowledge of pop symbols into actually playing a song on piano with Guitar Tabs. They have the notes written out on a piano visual to show you the chord. It can look a little overwhelming at first. This is why knowing pop symbols can be sooo helpful!
And don't worry, little ones can do it too! There are modifications you can make for them on the site. 😊
If you have been wanting to learn more about pop symbols and chords, this is the workshop for you!
Not only does the Pop Song Method build your students' skill sets (in regard to ear training and understanding chords) but it also gives them a complete mental shift when they start to learn pop songs!