Teaching piano during the holidays is supposed to be nothing but fun! However, if you don't have the right resources or plan in place for your student's lessons, it can be a little chaotic. The Cascade Method Book Collection features two Christmas books that have everything you need to prepare for piano lessons during the holiday season. 
So, today on the blog, I thought I'd go into detail on both Christmas books so you can feel confident in purchasing them for your students! (Not to mention, we happen to be running a MAJOR PROMOTION right now for these books, along with all the others in the collection!!! 😱)
✨🌲 ✨☃️✨❄️✨🎁✨
The Christmas Favorites Books Are All You Need for Piano Lessons During the Holidays! 
The holidays are a chance for your students to show off what they can play to all their family and friends. You want to set them up for success by not only knowing how to correctly play some Christmas classics, but also being able to play several! 
Especially with beginner students, it may seem nearly impossible to teach several holiday pieces in such a short amount of time… but with the help of the Cascade Method Christmas Favorites Books… your students will learn dozens of Christmas songs just in time for all the family gatherings! 
You're probably wondering…
How will my students learn dozens of Christmas songs in a matter of a few weeks?
Well, that's where The Cascade Method is different from all other piano books! ✨ 
The Christmas Favorites Books are written out using the Pop Song Method (a piano teaching technique that focuses on ear training). 
Learn how to use the pop song method in your lessons here! 
Basically, the notes of each piece are laid out so students can just quickly read the notes while using their ear to find the rhythm. I intentionally spaced out the notes in "chunks of rhythm." Basically, I put spacing where students should naturally pause in the rhythm.
This teaching approach helps students play all kinds of pieces quickly and easily by learning notes as they are physically written out — taking away the difficulty of rhythm while reinforcing the simplicity of ear training. 
When you are learning notes, it takes much longer to memorize a variety of pieces. With this method, your students could potentially learn ALL the songs in both books BEFORE Christmas!
🎶🌲
ALL YOUR GO-TO CHRISTMAS SONGS TO PLAY ON THE PIANO
🌲🎶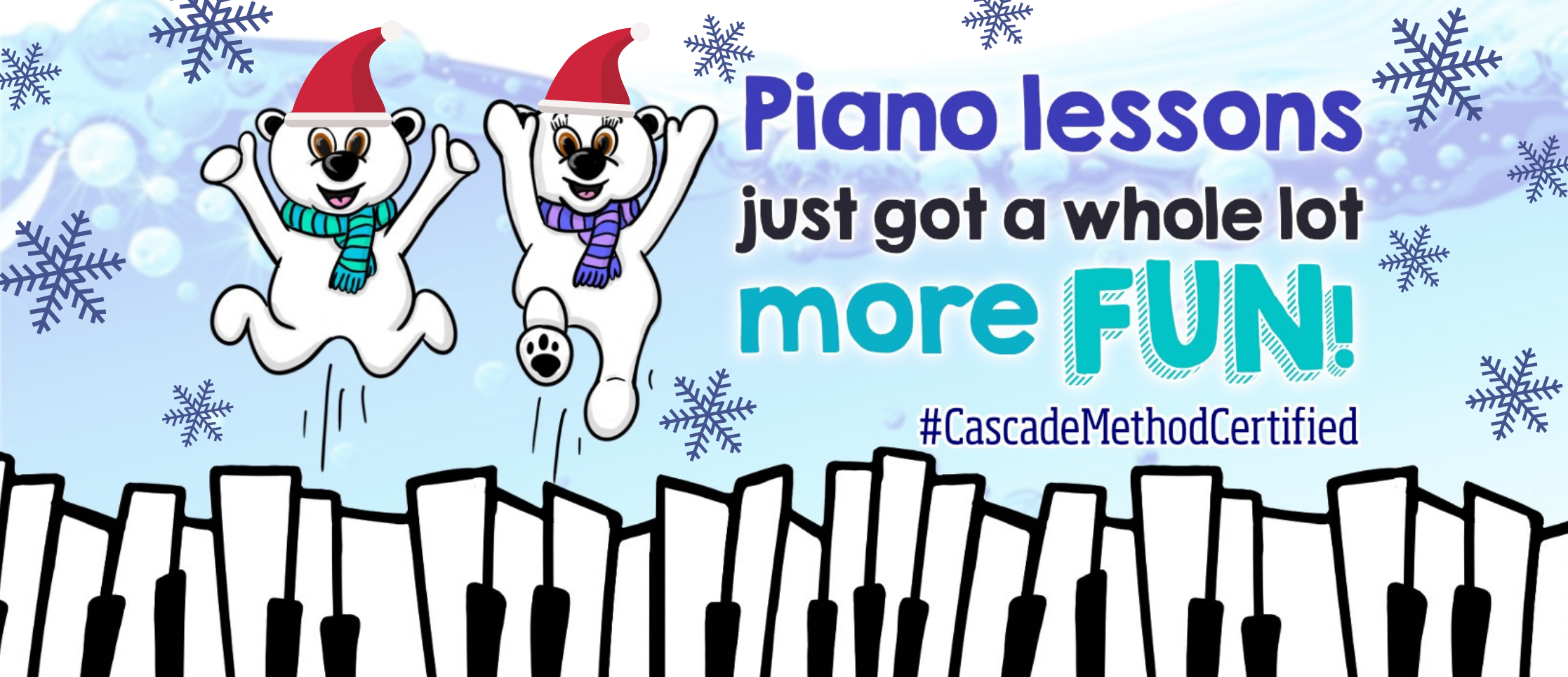 I released Christmas Favorites Book 1 this time last year. Read all about Book 1 here!
Book 1 is available in two versions: white keys and black keys. I've discovered that some piano teachers start their beginner students on black keys, so I made an option available! 
Christmas Book 1 is great for beginner to immediate students. However, it has classics that all students will love to play and you can always get creative on how to play these songs with this workbook! There's plenty of space to add in chords, rolls, or other fun rhythms.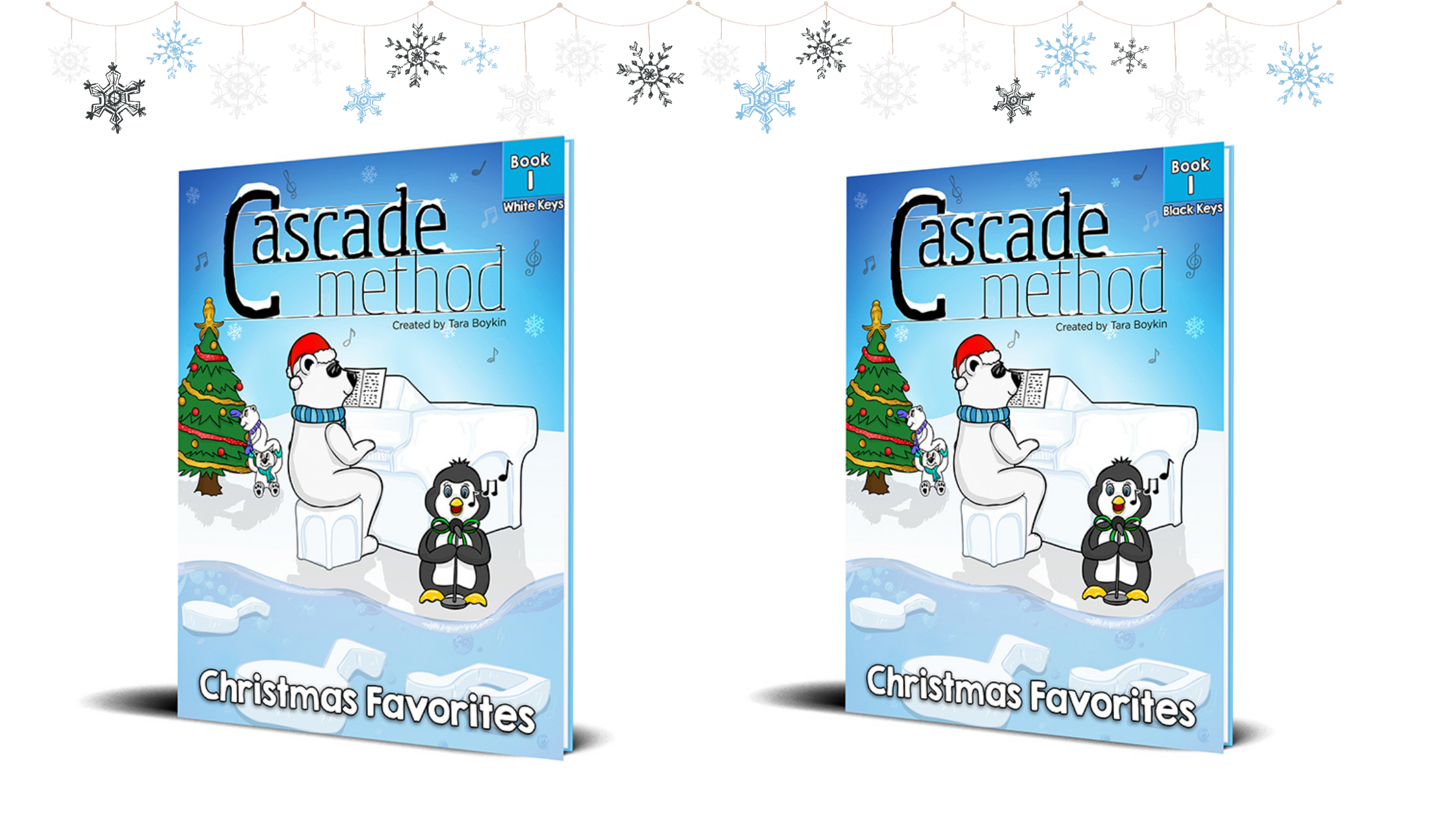 Here are all the songs you'll find in Book 1! 
Away In a Manger
Deck the Halls
Frosty the Snowman
God Rest Ye Merry Gentlemen
Hark the Herald Angels Sing
Here Comes Santa Claus
Jingle Bells
Jolly Old Saint Nicholas
Joy to the World
Little Drummer Boy
O Christmas Tree
Rudolph the Red-nosed Reindeer
Silent Night
Silver Bells
Up on the Housetop
We Three Kings
We Wish You a Merry Christmas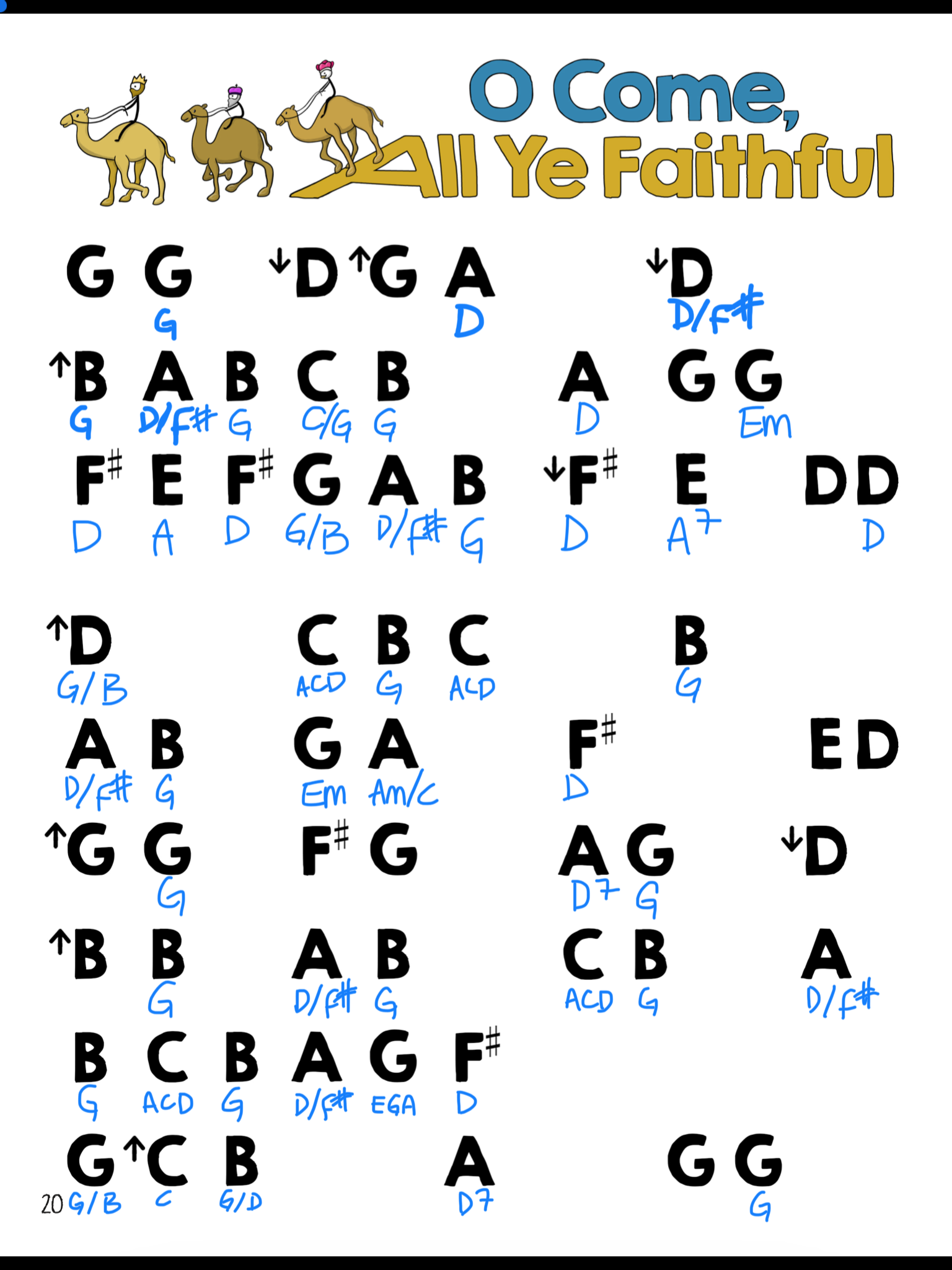 I just released Book 2 in September of this year. It took me a while to create because there are much bigger pieces in this book!
There are pieces that feature way more sharps and flats so this is a great option for older students. (Although, beginners can still play with this book, too!) 
If you have beginner kiddos, they'll be so happy to play the melody and learn it so quickly! If you have older kids, I like to add chords and get creative or fancy by tailoring it specifically to that student's skill level! Just look at this sample piece I made with one of my high school students… those are some pretty fancy chords! In other words, there's room to make these pieces yours and have fun with it. ✨🤩👏🏻 

Christmas Favorites Book 2 includes 20 more sing-alongs that everyone is sure to know and love!
Coventry Carol
Carol of the Bells
Chestnuts Roasting on an Open Fire
Feliz Navidad
The First Noel
Good King Wenceslas
I'll Be Home for Christmas
It Came Upon a Midnight Clear
O Little Town of Bethlehem
The Christmas Waltz
A Holly Jolly Christmas
O Holy night
O Come, All Ye Faithful
The Nutcracker Overture
It's the Most Wonderful Time of the Year
Jingle Bell Rock
Let it Snow!
It's Beginning to Look a Lot Like Christmas
Dance of the Sugar Plum Fairy
What Child Is This?
MAJOR CHRISTMAS PROMOTION HAPPENING NOW!
If you shop through The Cascade Method Online Store, you can grab both the Christmas Favorites Books for just $20. 
These books are originally $18 a piece!

You're basically getting one for FREE!

If you shop through Amazon, both books cost $24 or $12 each! 
Here's the kicker…
If you place a bulk order (five of each book or more), you can purchase these books for just $10!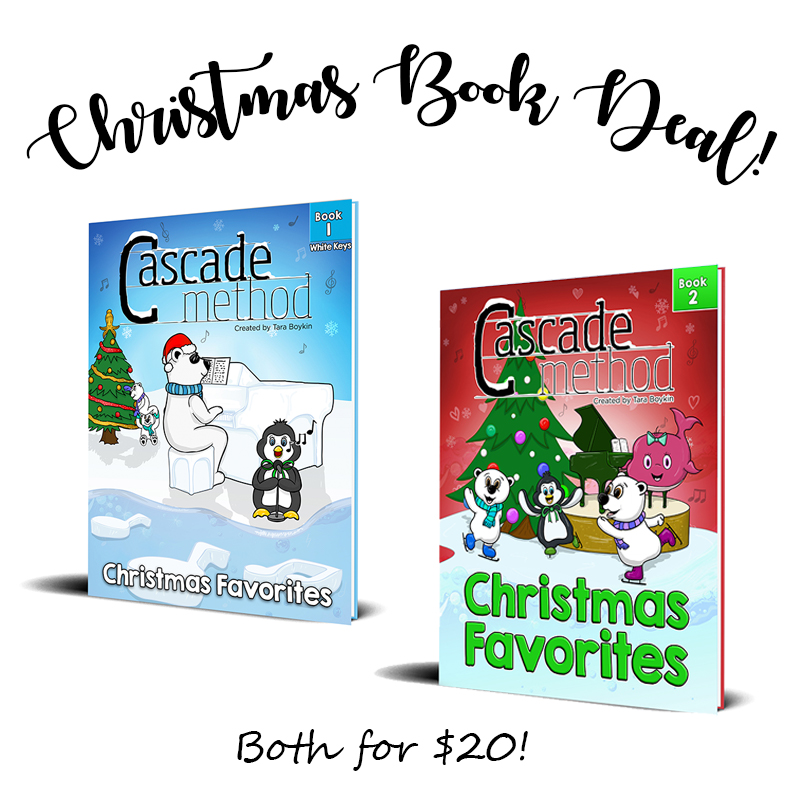 That's not all, folks… 
If you've ever hesitated but been curious about The Cascade Method Book Collection, now is the time to try them out or even stock up for all your lessons because… the ENTIRE book collection is on SALE! 😉 YES! You read that right. You can try out both Christmas Favorites Books as well as our Notematch Book or Student Duets books for a killer price!
There's no better time than right now to see if the Cascade Method will work for you in your lessons! (Hint, hint: it will. 😉) Read a snippet of each book in our collection here!

By trying out these books, your students will naturally pick up the right rhythm and learn piece after piece with ease. They'll walk out of each lesson this season with a jingle to their step, excited for the next week of holiday fun. 🌲🎶✨
There's no better way to welcome the holidays than sending your students off with over dozens of Christmas sing-alongs to show off to their friends and family! 
😍✨🎁 🌲☃️❄️