Cascade Method is launching a full piano book collection in 2020. With it being the holiday season, we went ahead and released one of the books within the new collection that embraces this time of year full out! In this blog, we'll be introducing the Cascade Method Christmas Favorites Book 1! 
With Christmas right around the corner, we understand we're pushing it close for our book to make it to your lessons, but all you need is two weeks for your students to truly master this entire book. Yes, you read that right. 
Cascade Method Christmas Favorites Book 1 is filled with 18 Christmas classics that your students will be thrilled to learn. Once they find out that they can learn each of these songs in two weeks, they'll be even more excited!
They may also be a little skeptical. Shoot, I bet you're pretty skeptical right now but let me tell you how this Christmas Book is laid out. 
Do you think your students can learn 18 Christmas songs in 2 weeks? 
I know they can and the reason I know is that my students do all the time! 
For starters, I've created a piano method known as the Pop Song Method. This method involves teaching piano with a focus on ear training. It embraces the notes as they physically appear written out; as in A, B, C. It takes away the difficulty of reading music and focuses on the melody! 
To learn more about the Pop Song Method and how to do it/teach it, I reveal the entire method in this blog post. If you're interested in more teacher training, you can head over to my training course that teaches you every single method that I've created to teach piano the fun way.
Now, back to the Christmas Piano Book!
Christmas is such an exciting time for pianists because we typically get the chance to showcase our talent to all our friends and family at the annual holiday party.
How cool would it be if your students could play over 12 songs rather than just one? I'm sure that would catch the other parent's attention… (hello, new students!) 
Okay, getting new students is great and all but what's even better than that is seeing your current students exceed at playing. Playing songs that everyone loves and that they love will make them excited about playing and isn't that we want for our students? Isn't that how we keep them coming back to each lesson? Check out my student, Ben- only 6 years old and his readiness to learn one of these fun jingles!
The answer is YES and with this Pop Song Method: Christmas Edition Book, your students can feel the holiday cheer within their piano career. Let's do this!!
What to expect in the Cascade Method Christmas Piano Book: 
Reinforce of White Keys 
I've heard from other teachers in my training program that they typically stem away from teaching the white keys. Set your fears aside and watch your students gain a huge confidence booster! 
Here are a few of my students already playing Christmas pieces within this book! Look how perfect! 
Introducing new characters! 
I'm so excited for you to meet Penny the Penguin, PB the Polar Bear, and his two baby twins PBJ (PB Junior) and Peanut! I use characters, colors, and fun art to make my students excited to open up their workbooks. 
In my Piano Theory Book, I introduced Olivia the Octopus and my new Student Duets Book will have Oscar the Otter!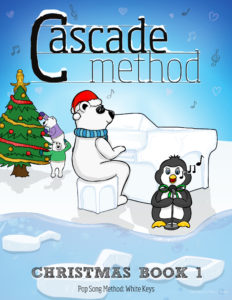 So… I always planned on creating a second book that would be filled with another dozen Christmas songs, since I know your students will breeze right through these. This book will be identical to Book 1, just with different pieces! Book 2 is now available on Amazon! 
As for Book 3, this wasn't an intention when I started the Christmas Books but after talking to the members inside my teacher training program, I discovered there's a demand for it. I'm going to create another book that is identical to books 1 and 2, but instead of reinforcing white keys, it'll reinforce the black keys! This book will be great for your youngest students; whereas the white keys book is perfect for beginner to intermediate students! 
Why Your Students Will Love This Piano Christmas Book
They'll learn over a dozen Christmas songs within a matter of weeks.

Their confidence in piano will increase exponentially. 

They'll be able to showcase a full playlist come Christmas Day.

This sheet book is like no book they've had before- it's colorful and filled with the cutest characters! 

It's on MAJOR SALE until Christmas Day!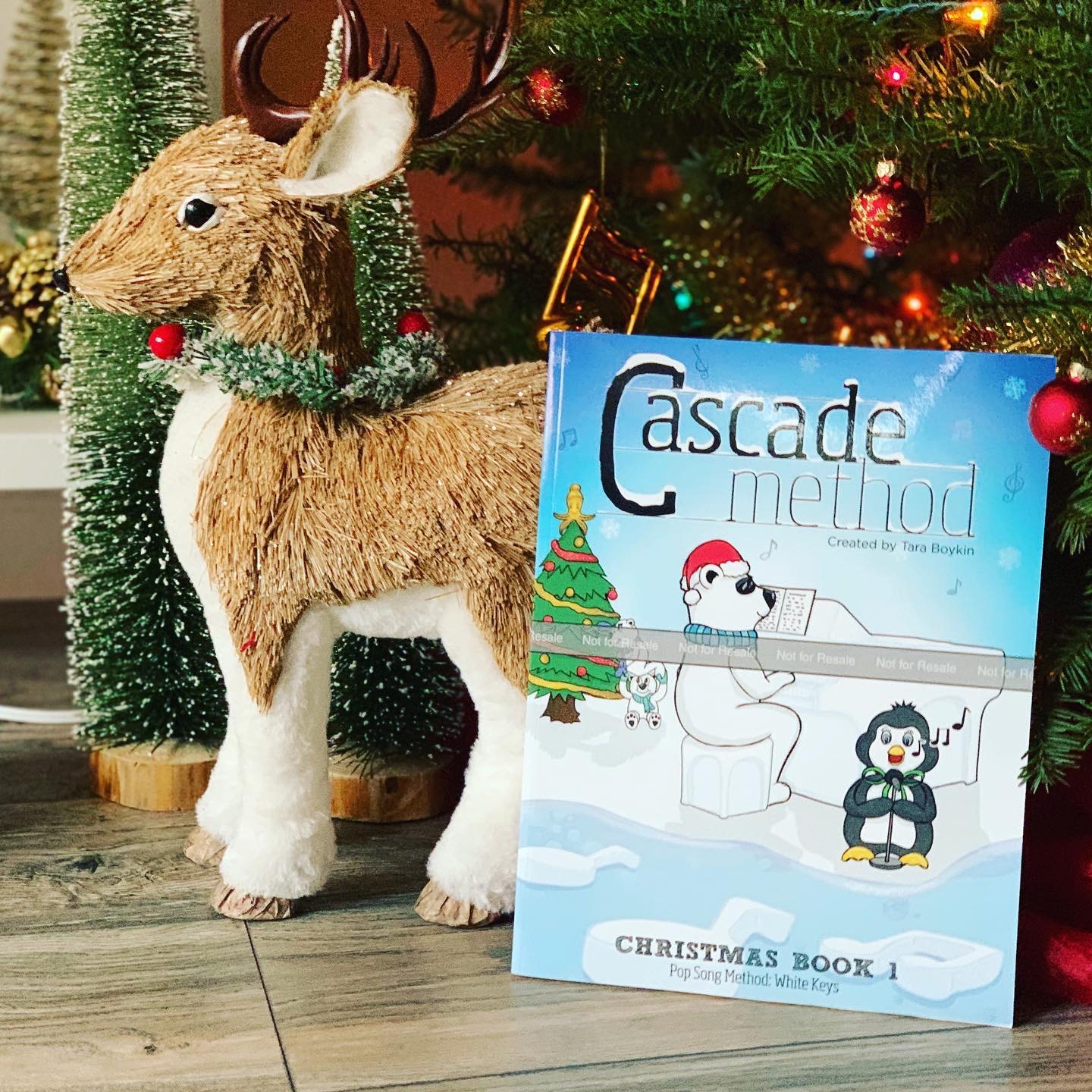 50% UNTIL CHRISTMAS DAY on AMAZON & CascadeMethod.Com 
Yep, The Christmas Book is normally $18 but you save BIG up until Christmas.
ON SALE FOR $9 PLUS $2 FOR SHIPPING on THE CASCADE METHOD WEBSITE.
ON SALE for $10.07 on AMAZON (with Amazon Prime). 
JOIN THE FUN AND GRAB YOUR CHRISTMAS BOOK!