What is NoteMatch and Why You Need It For Your Piano Lessons

If you hang around here long enough, you're sure to hear about NoteMatch, the key element to reading notes on the piano. 🎶If you want to understand what NoteMatch is and why you need it for your piano lessons, keep reading to explore all the possibilities within this one tool! 
We also happen to be offering a NoteMatch September Sale! Get your NoteMatch ON SALE HERE! 👏
What is NoteMatch? 
NoteMatch is a piano reading tool that teaches students how to read music in their very first piano lesson. This tool is the missing visual element your students need to comprehend sheet music. It helps students relate the notes on sheet music back to the correct location on the piano. 
NoteMatch bridges the gap between reading music and understanding the location of those notes on the piano. 
Designed as a grand staff made of magnetic whiteboard material, NoteMatch sits directly behind the black keys of any and all pianos including keyboards, uprights, and grand pianos!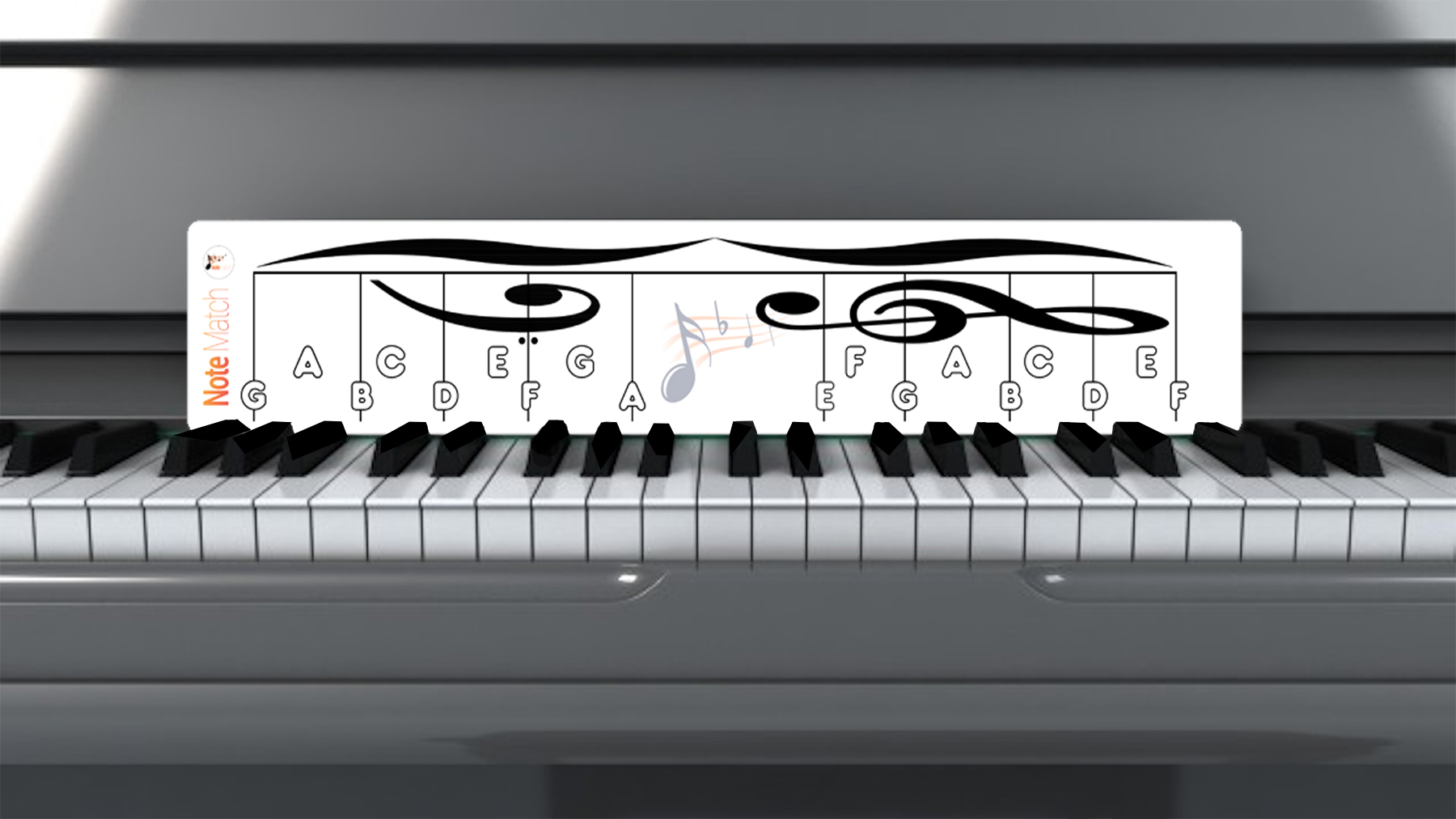 When placed directly behind the black keys, students can see exactly where the notes in the sheet music correspond to the keys on the piano! It's made out of a whiteboard material so students can experience hands-on learning. 
The Solution to Sight Reading
See How You Can Teach Note Reading in Less than Five Minutes Using NoteMatch! 
Why You Need NoteMatch for Your Piano Lessons
NoteMatch has helped so many pianists understand the location of notes, as well as helped teachers instruct on note reading! Since online piano lessons are becoming the new normal, piano teachers are going to find it more challenging to instruct their students on certain concepts. 
You may not be able to point things out in person right now, but you can allow NoteMatch to serve as the physical element that your students NEED to comprehending note reading.
With the release of NoteMatch Book 1, there is no better time than now to start teaching with NoteMatch!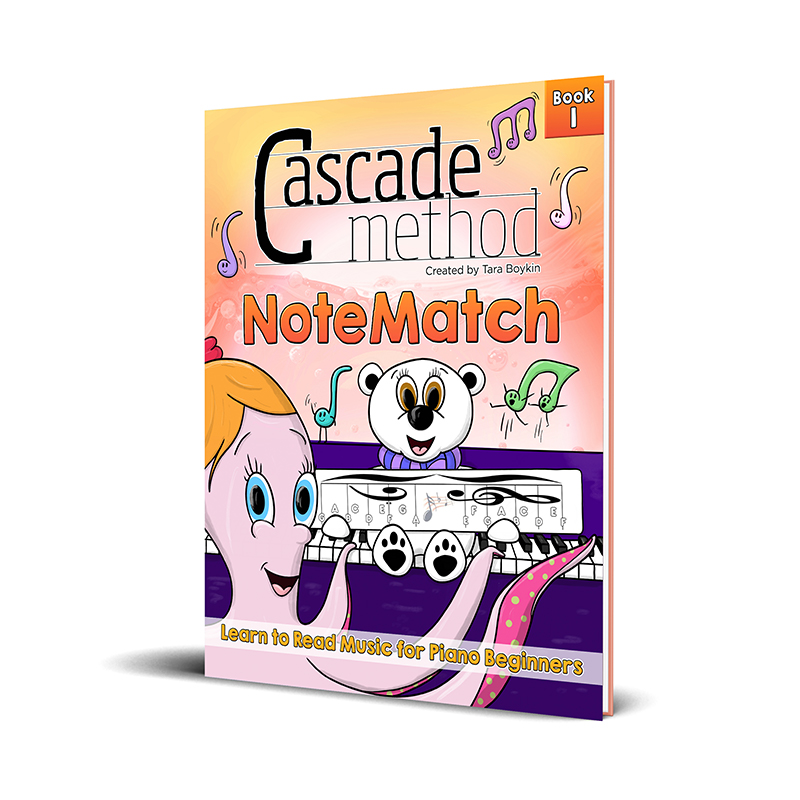 Introducing The NoteMatch Book! 
NoteMatch was invented in 2016 and my goal was to release a book that paired directly with it. This past month, I finally got to check that goal off my list! 😁🥰🥳👏🏻
NoteMatch Book 1 is going to be the only resource you need to teach note reading to your students from the very beginning. This book gives children the freedom to explore notes! It covers all the notes within the grand staff. With fun and interactive pages, this workbook doesn't feel like work to students! 🤪
The book is covered in cute illustrations and also incorporates the note reading game app, Note Rush, which is an app that all students LOVE! If you aren't already using Note Rush, download it here! 
There's no better trio for helping kids learn to read music!
You won't believe how quickly your students read notes with the help of this book, NoteMatch, and Note Rush. The workbook follows the same teaching framework throughout each group of notes being taught: A mini piece, a mini composer section, a flashcard section, and a Note Rush section! 
Even though this book was just released, here's what other piano teachers are already saying about it and NoteMatch!



The Possibilities of Teaching With NoteMatch are ENDLESS
This summer, I let my creativity run wild and made all sorts of fun, hands-on games since NoteMatch is magnetic! A simple trip to the Dollar Store ended up inspiring me with SO MANY IDEAS! 
I bought this set of magnets on Amazon and created this PDF download so you can also get creative in your lessons by creating these lettered magnets, too! NoteMatch makes everything easier, even when it comes to having fun! 
Whether you simply allow students to place the matching letter on NoteMatch or you get even MORE creative, your students are going to LOVE it! Don't forget that NoteMatch is also made of whiteboard material, so your students can color in notes directly on the tool, too! 
Needless to say, the possibilities with NoteMatch are truly endless! It's fun, interactive, and IT WORKS! 
Next week's blog is going to be dedicated to GAMES! Be on the lookout for
Five Ways to Play Interval Flash Cards!
Sign up the Cascade Method Newsletter here! You'll be the first notified when the new blog is live!

HUGE NoteMatch September Sale!
For the entire month of September, I am running the BEST NoteMatch sale I've ever done! With this sale, you can purchase NoteMatch for almost HALF the original price! 
If you own your own piano business, music school, or studio, this is something you don't want to miss out on!

I'm offering a huge NoteMatch box of 20 units for $450* (20 units would cost $780 when sold individually). If you're one of those teachers that has your students buy books and materials, then you could even make close to $200 in profit if you sold it to each family! But that's not what matters most… What matters most is how incredible NoteMatch works and how this tool truly helps students read music. 
I'm happy to work with you if you have a smaller studio or are wanting to purchase a smaller amount. Just reach out to me directly, Tara@TheCascadeMethod.com, and I'll get you your deal! 😎

Are you ready to use all the NoteMatch tools in your lessons?!
Then this is the package for you! The NoteMatch Book Package includes:
1️⃣ NoteMatch Piano Reading Tool
1️⃣ NoteMatch Book 1
🎶 A PDF (unlimited print) of Pocket NoteMatch
🎶 A PDF for DIY NoteMatch Magnets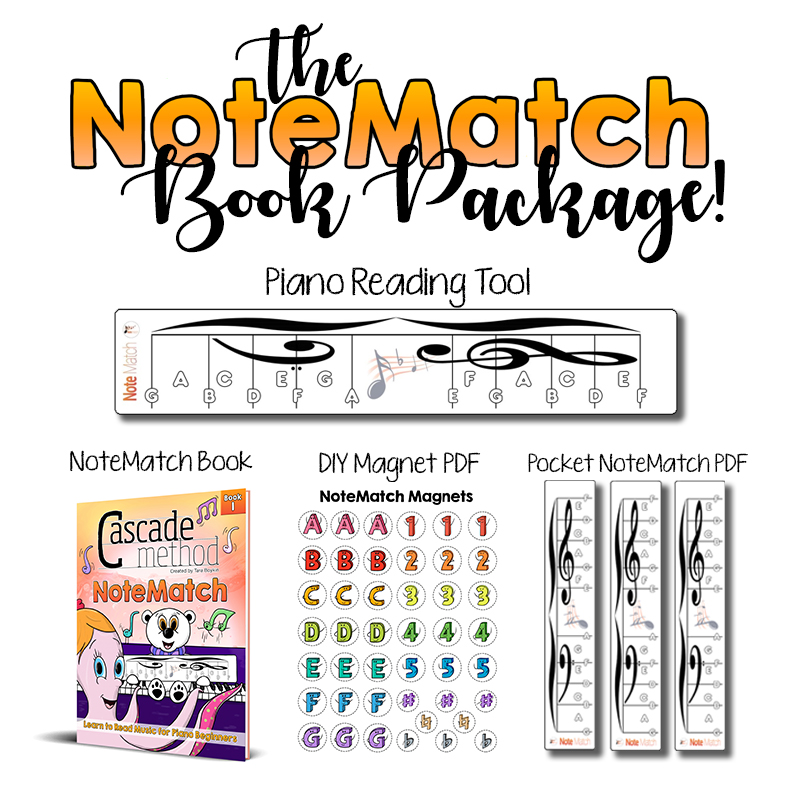 I am thankful to each and every one of you that believes in Cascade Method and uses our products! We are a movement for all teachers and students to discover and deepen their understanding and passion for piano in a fun and revolutionary way. Thank you for joining in on the fun and we're here to assist you in any way we can!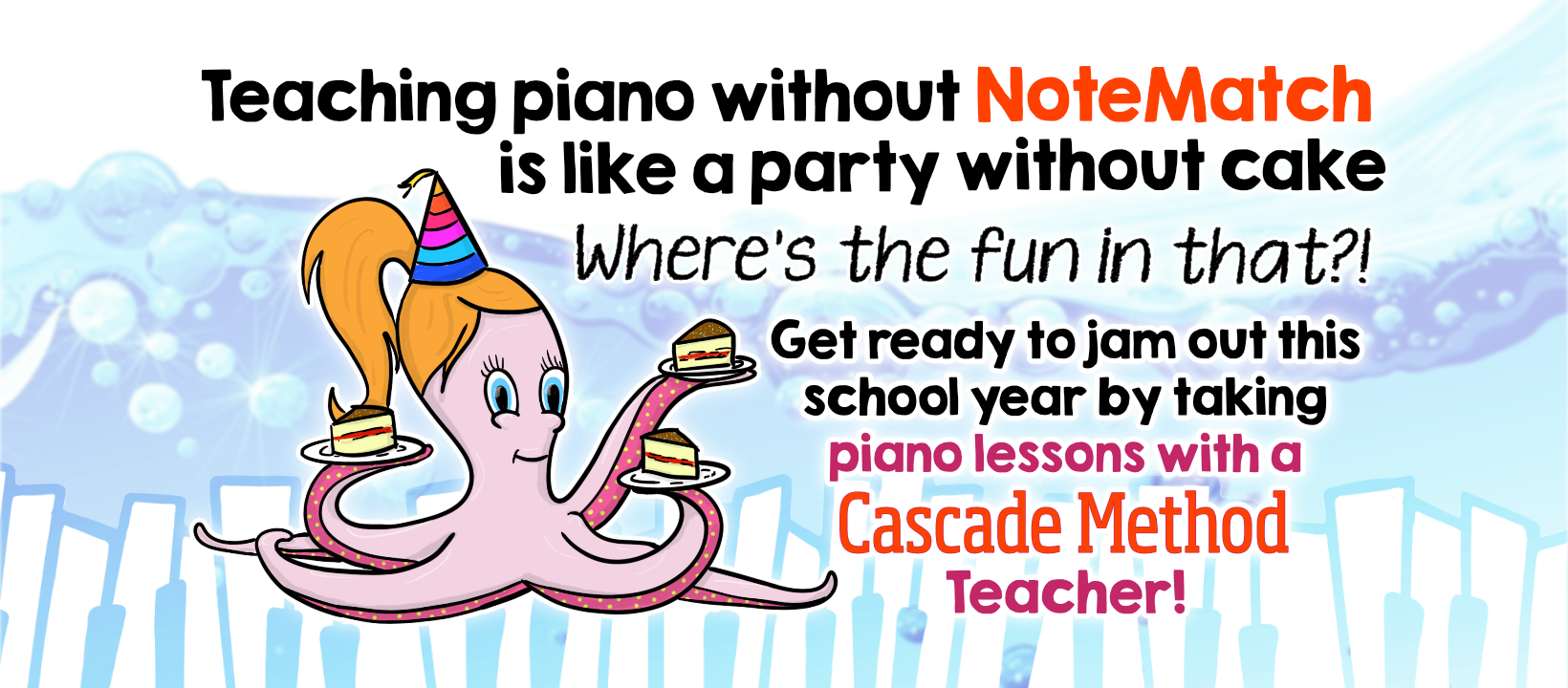 To learn more about joining The Cascade Method Teacher Training Program, click here!