As most of you know, Cascade Method has added many more additions to our book collection! We are continuing to release more as they come, but we wanted to prepare you for a BIG one! Read along to find out everything you need to know about the launch of our Chords 1 Book!
What Inspired The Chords 1 Book: 
Dating back to October 2019, I shared my method in a blog post on how I teach my students C major and C minor chords. (You can still get your free worksheet downloads!) When I started doing these worksheets, my students went bonkers over them! Their ability to understand chords was coming so easily, so I knew I needed to make it into a book and expand on everything involving chords! 
The first book I ever published was the Cascade Method Piano Theory Book. This theory book only has one page that's dedicated to chord training, which is the first page presented in the full Chords 1 Book, too! 
What's the Chords 1 Book Going to Offer?
When I say this book is going to expand on everything you need to know involving root position chords (i.e. triads), I'm not lying! It's going to reinforce chord reading, how to notice chords throughout a piece, understanding chord patterns, and much more!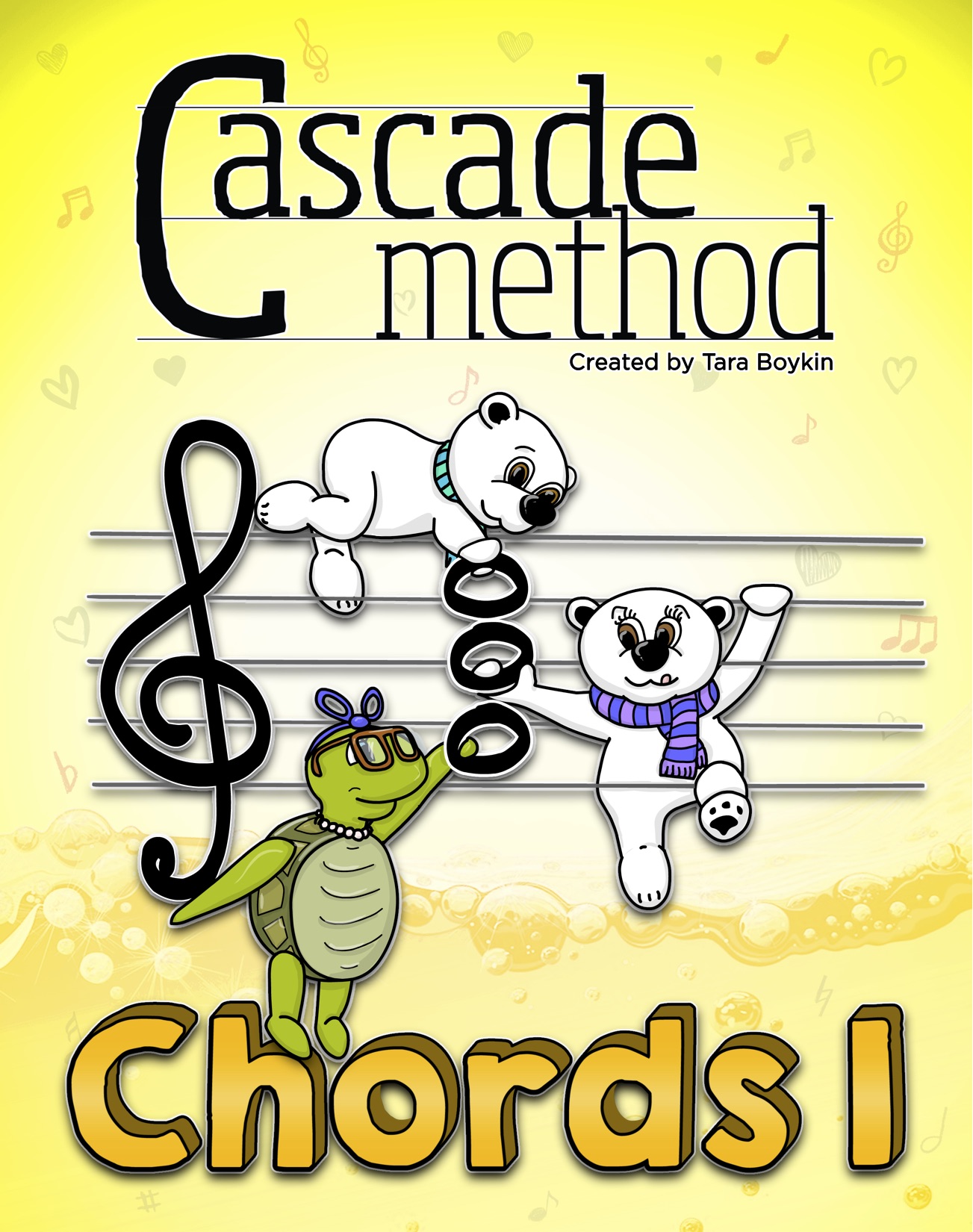 Mark my words. Once your students go through this book, they will never have a problem reading chords again.
How the Chords 1 Book Will Be Formatted: Section by Section
This book follows a specific framework for each chord. There are four pages given for each chord. Learn the framework of each below and a brief description of the fun, bonus pages!

Here's the full list of chords given: 
C major, C minor,
D major, D minor,
E major, E minor,
F major, F minor,
G major, G minor,
A major, A minor,
B major, B minor,
And BONUS SNOWMEN PAGES!
The first page presents the given chord and students will be required to trace the notes, then color the corresponding notes on their Mini-NoteMatch, as well as the life-sized NoteMatch. (Head here to if you aren't familiar with NoteMatch, the piano reading tool) This tool not only helps students read music, but it also brings a fun, interactive experience to lessons that students obsess over!) Once they're done filling in NoteMatch, they should be able to easily play the little piece on that page. This is ONLY using notes from that given chord.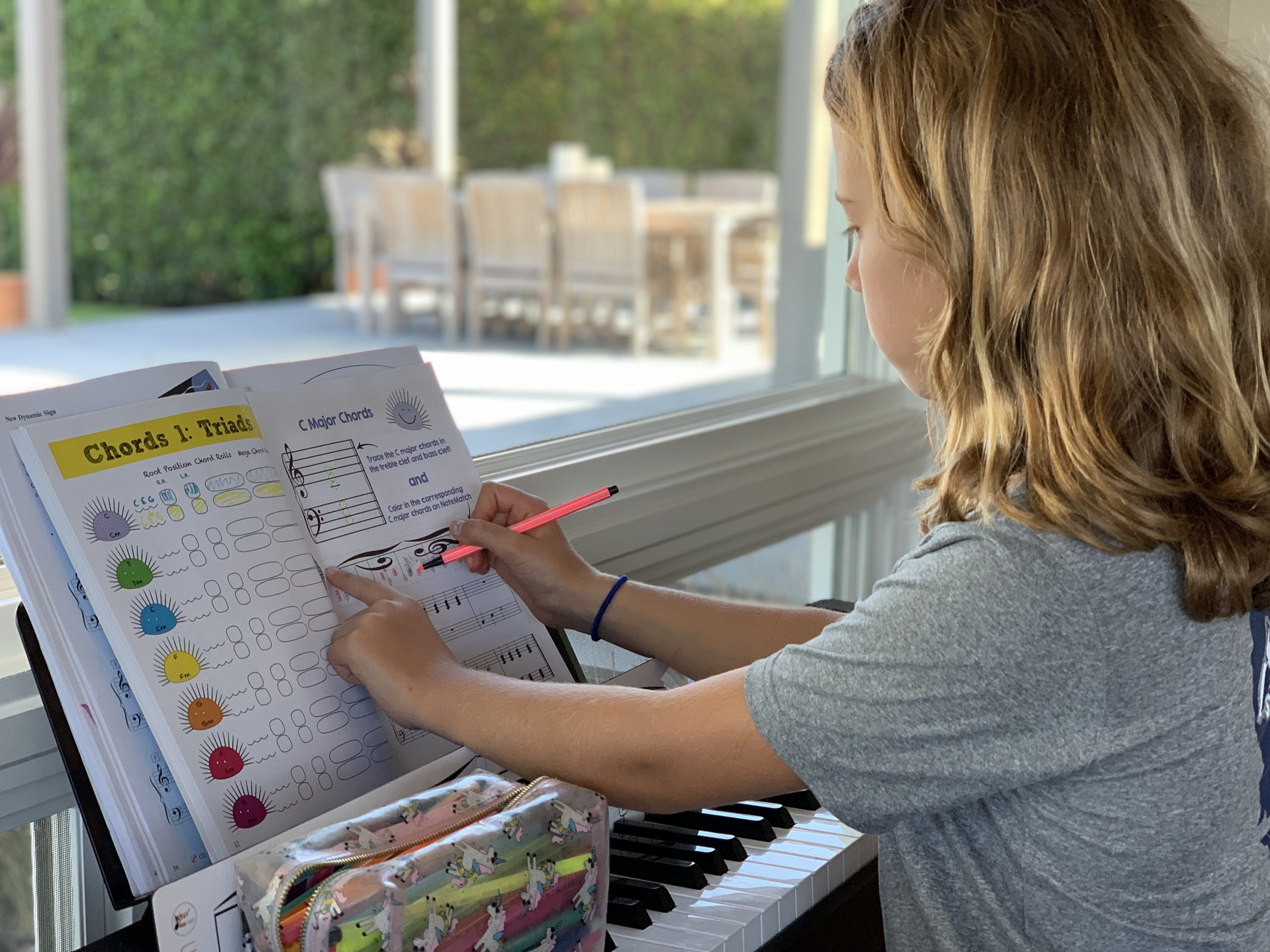 The second page is the most popular and liked page by my students!
We call this page, "Play Composer." I'm not sure if it empowers my student's or they just really love writing out their own piece, but this page is always a hit! I think the best thing about these composer pages is the way it's presented. 
Writing music can be very intimidating but guiding students through it and giving them the tools they need to create something beautiful makes it completely non-threatening. 
The page is laid out with all the possible notes that they can use within the given chord. They're printed faintly, so when they do decide which notes they want to trace and use for their composition, it stands out!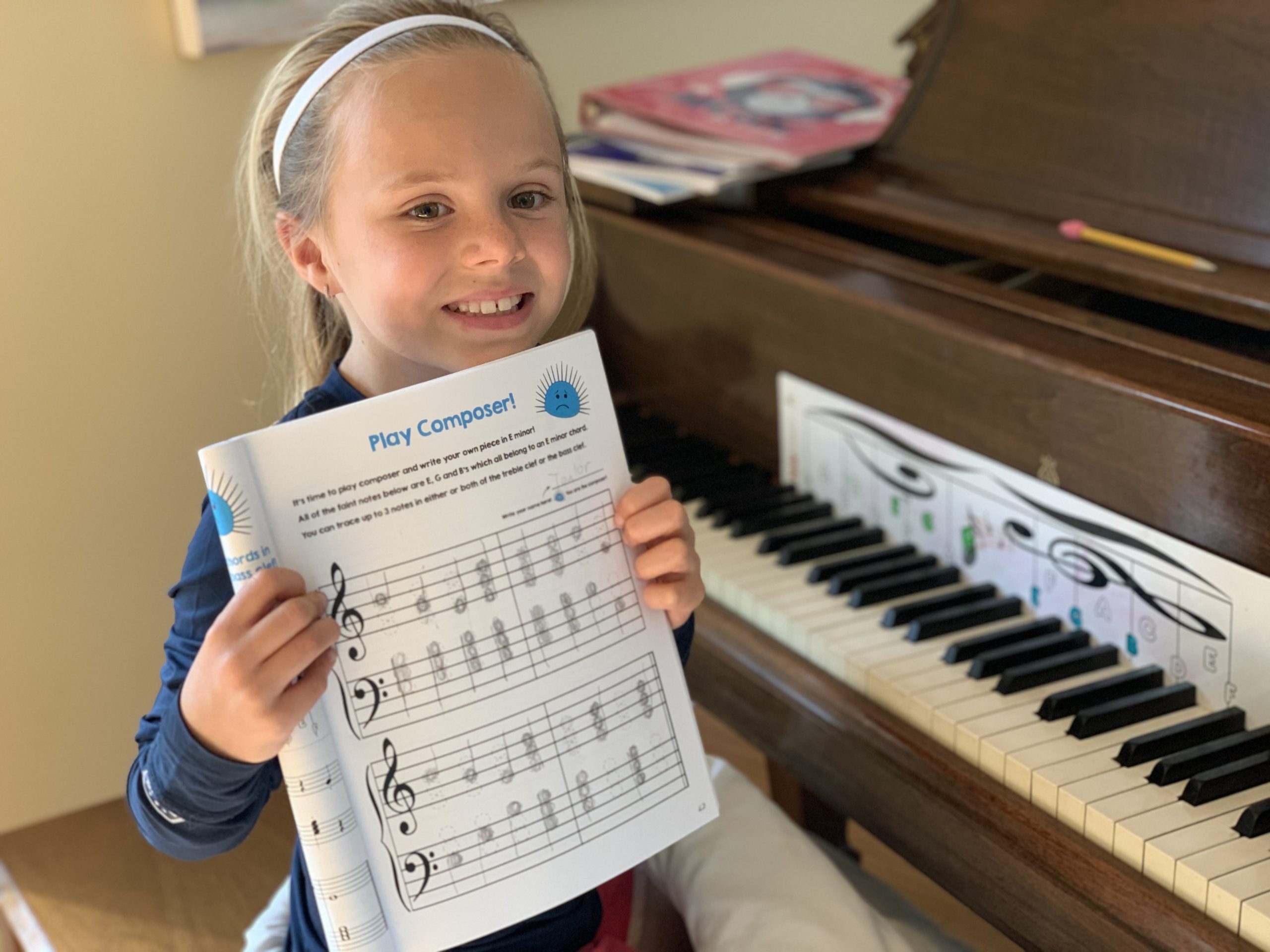 The benefits of doing the Play Composer Page are…
It gives them the confidence to create their own music. 

It teaches students to beautifully form the notes as they are written out. 

The notes on this composer page are really big, so it's even great for little kids who don't have a lot of finger dexterity or fine motor skills. 

Since the spacing is perfect, it teaches them rhythm. It makes them think:

"How many notes can I put in this measure? Can I add two at a time? Do I put the stem up or down? Can both hands play at the same time? Is this note "black?"

(What my students mean by this is whether or not they have to color it in and I tell them that depends how long they want to hold it. If they want it longer, they have to leave it white, which is called a half note making it white and having a stem, and if they want it even LONGER, they don't put a stem. It's a big fat white circle!) 

Students also learn about sharps and flats. Along the outline of the play composer page, there are little rules written out that explain where to add sharps or flats within a measure and how it will affect the following notes. (Such advanced rules that my six-year-olds are learning! It's all about the way you teach it!) 

They challenge themselves! Some students have added 8th notes to their piece by adding beams and extra little notes between the main beats! 

During the process, it raises so many questions which helps them learn so much more than any other method!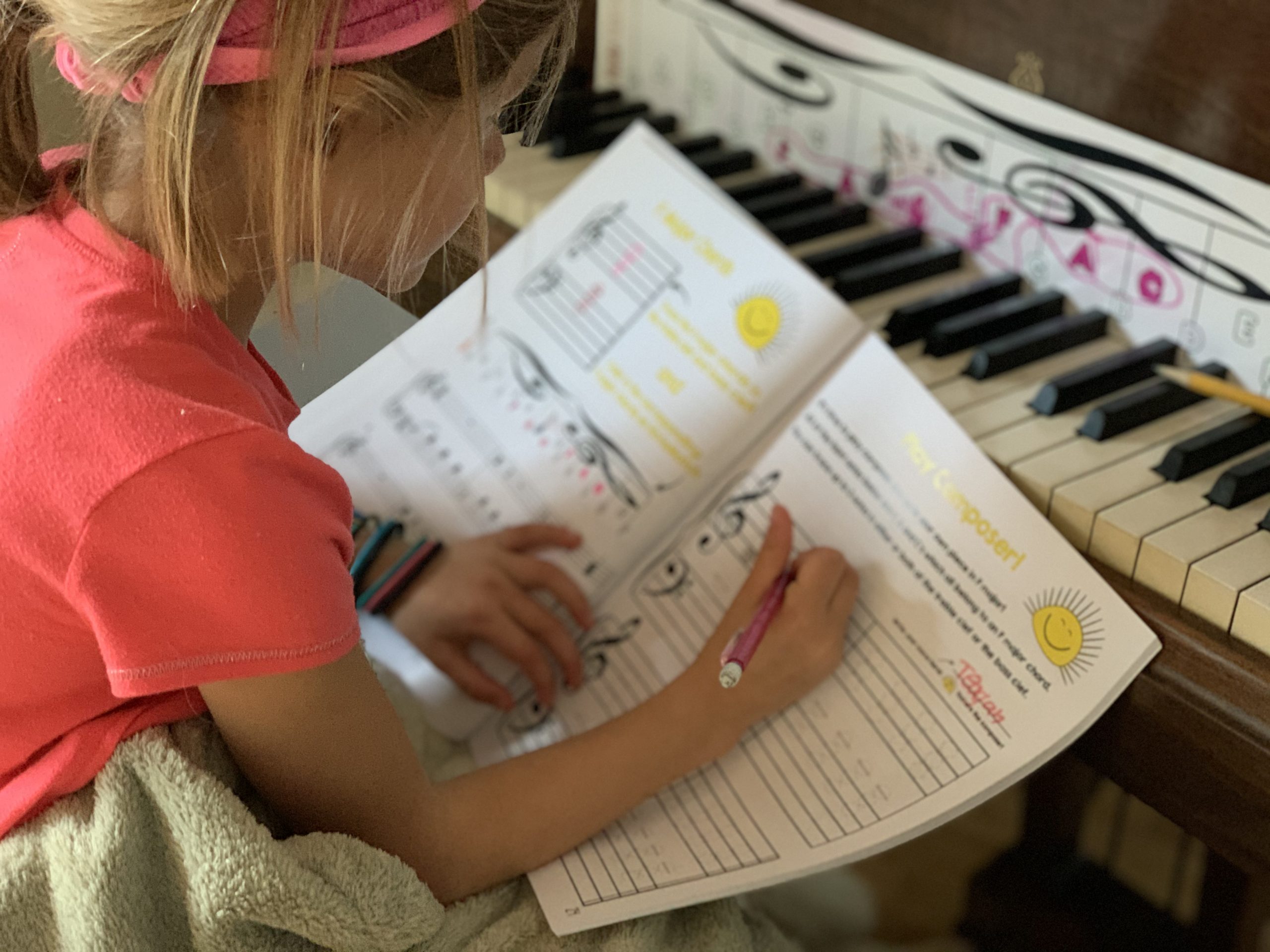 Needless to say, this page gives students so much structure to rely on that it makes writing their own music seem possible. They let go of their intimidation and they gain confidence! It never fails- every time I get to this page with a student, the first thing they do is write their name on the composer line. They are so proud to have a piece that's their own! ??
On to the third page, there is an extra composer page with a grand staff and more faint notes. This gives them the option to continue their first song or write a new one that will be longer. This page shows the notes a little smaller than the second page, which starts to make it look more similar to the small notes on real sheet music!
The fourth and final page is a little piece that involves most of the notes from the chord that's being learned, I sit down with the student and have them analyze the piece. I tell them to grab a marker and color the "imposters," (because most of the notes will be from the chord they're currently learning). This way, when they color the imposters, they feel RELIEVED to know there's only x-amount of notes that don't belong to the chord. That means ALL THE OTHER NOTES are FAMILY! So, they barely have to think since they've already colored the corresponding notes on their life-sized NoteMatch. They basically have all the answers to the piece! 

What do I mean by "Imposters" and "Family" Chords? Oh, just one of my other fun methods to teach piano the fun way! Here's how I explain it to the student: 
At the beginning, as in for the first chords like C major, C minor, I'll keep it simple and almost ONLY stick to the current chord at hand. As we progress through the book, I will start mixing chords up where I ask the kids to scan and analyze the piece, looking for the different chords that will be played. It's all about categorizing notes and seeing who is "family." Understanding chords makes "three notes" a lot less intimidating because instead of thinking of a measure, or a piece as having "three notes", it's truly only ONE FAMILY. A C chord or a D chord and sometimes, we have a couple "intruders or imposters!" These are just "neighbor" notes… that makes the melody a little more interesting ?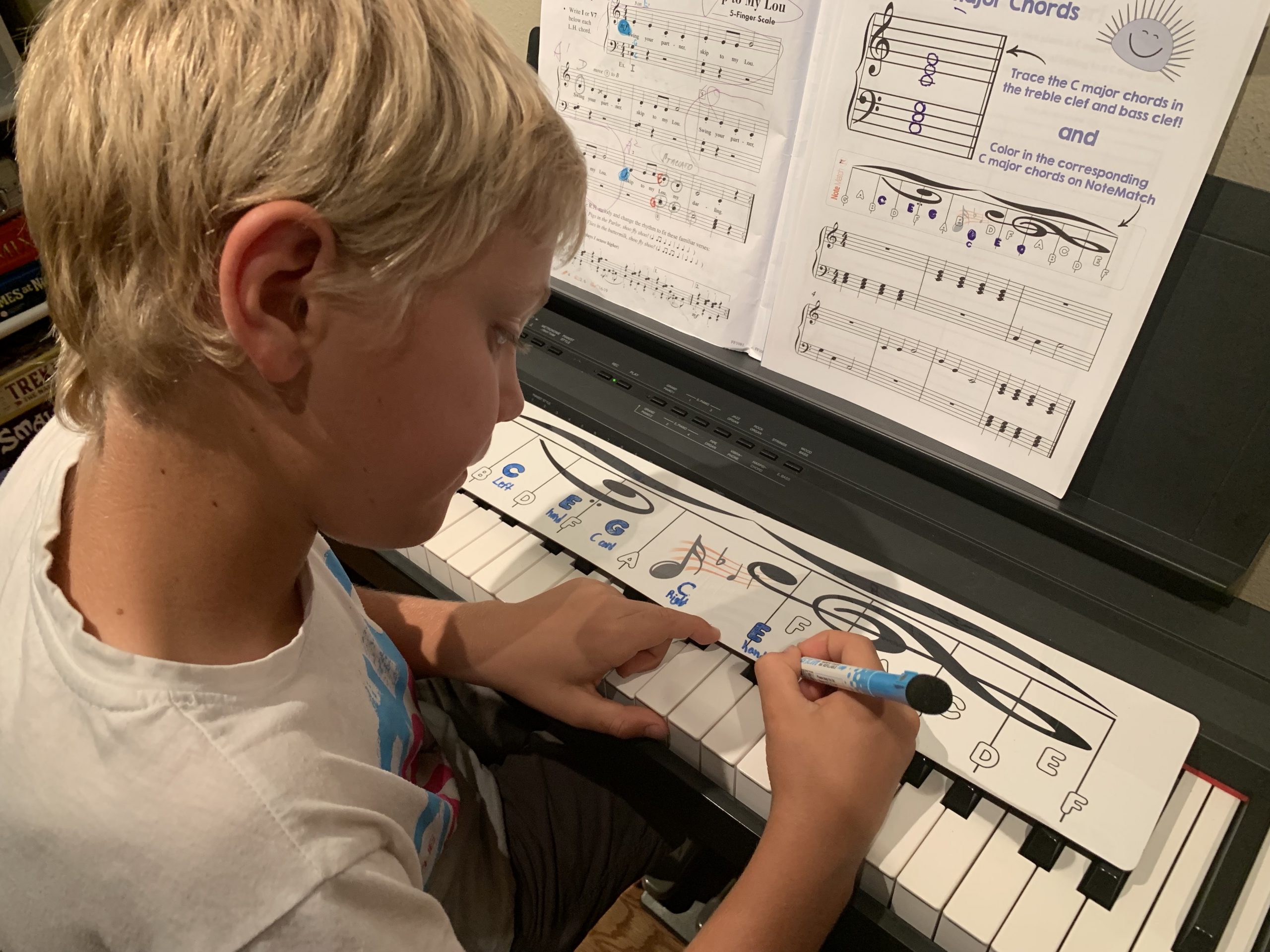 EXTRA ADDITIONS IN THE CHORDS 1 BOOK!
The book is also going to feature some cute snowmen pages!
  These will reinforce the visual identification of chords. Chords are the EASIEST and most fun to find! They are literally three notes stacked so beautifully!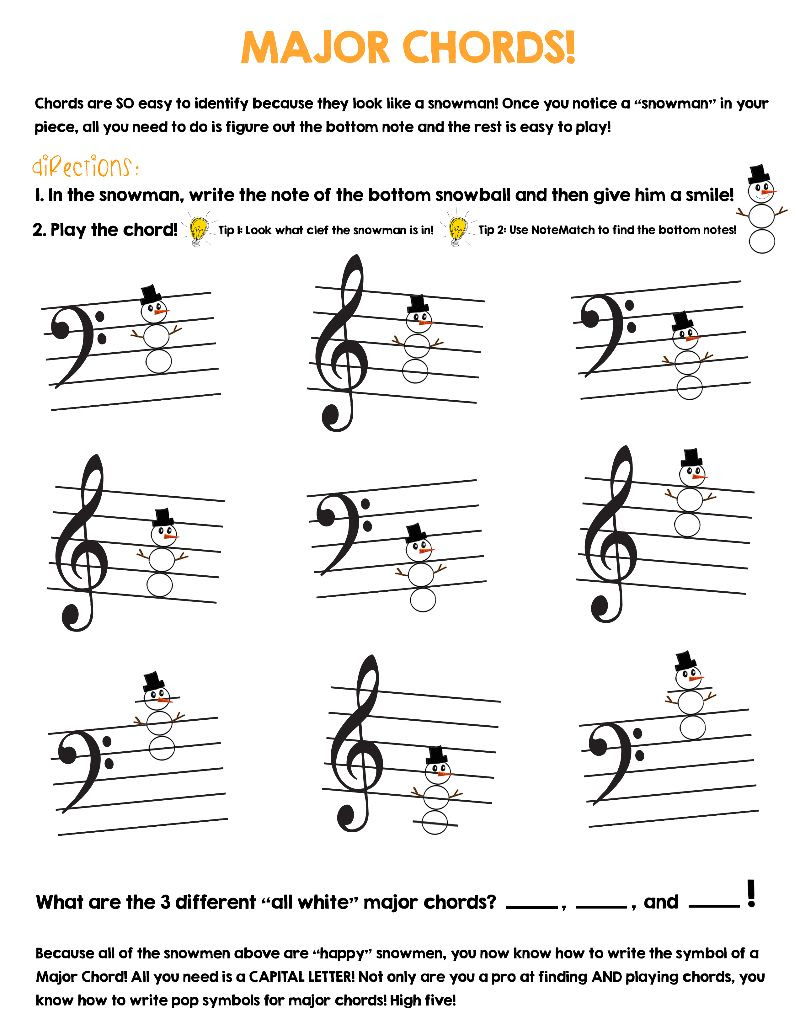 Why Snowmans? Another Teacher Training Tip Coming at Ya! 
I plan to share this training tip on a separate blog more in-depth but ultimately, the snowman pages will be at the back of the book, serving as a "summary" of all the chords the students have learned. I think it's so important that students understand pop symbols and learn chords. The reason being- once they change their mindset of learning three separate notes, they will start to see them as a whole which is so much less intimidating! 
My hope for these fun, interactive pages is to make it super easy for students to identify chords in pieces!
As you can see, the Chords 1 Book is going to be filled with so many fun activities to help your students conquer Chords like cake! From the descriptions of each page, you can gather that NoteMatch will be a HUGE help in learning these chords with ease as well. Not only does NoteMatch physically bring note reading to life, but it also makes lessons that much more fun when students get to draw in their notes! 
Grab the Chords 1 Book and purchasing your NoteMatch or printing out the Mini-NoteMatch found in this blog post!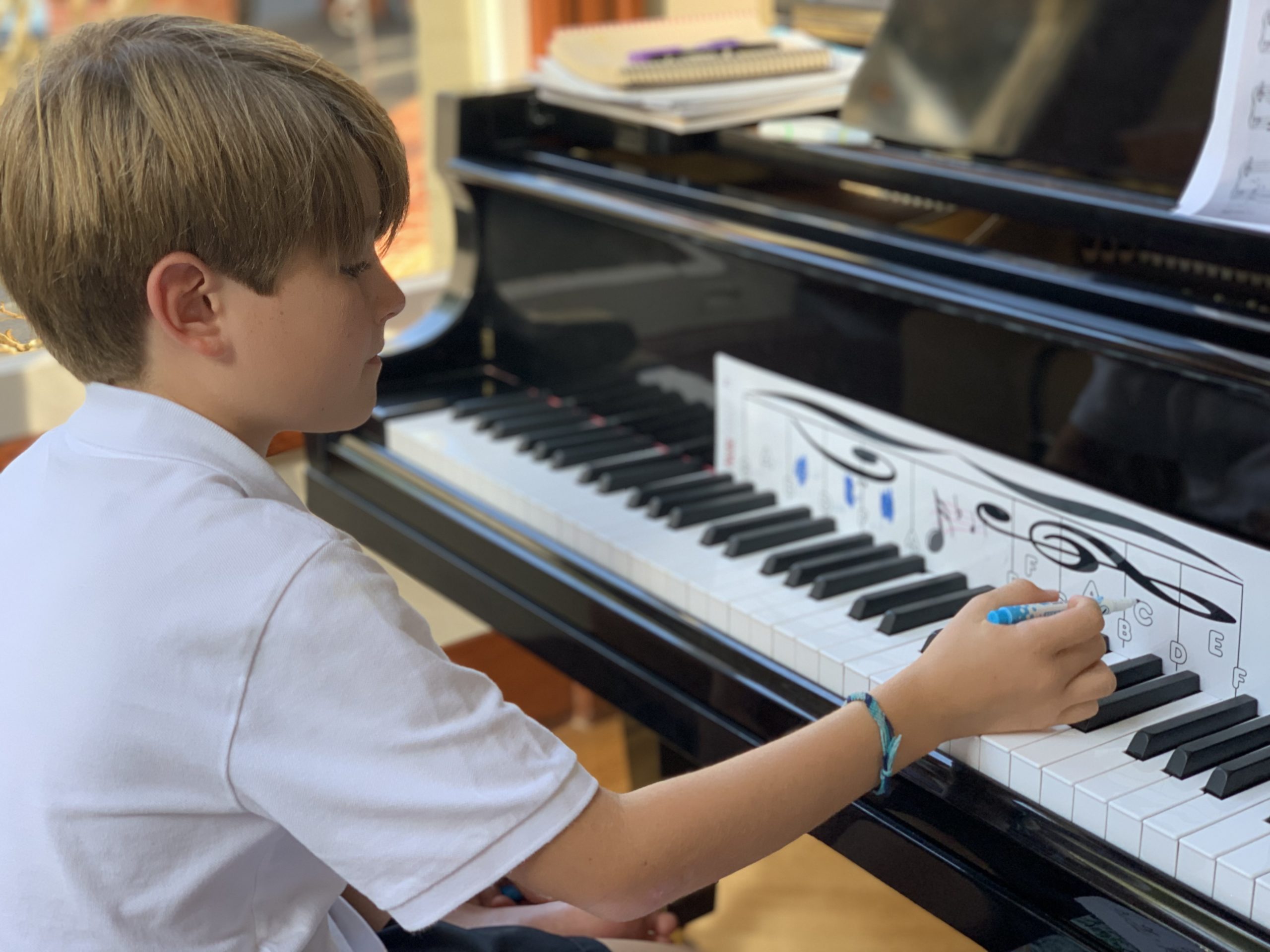 My snowman and "imposter" teaching trick are just a few of many… to learn ALL my teaching methods and techniques, consider becoming a Certified Cascade Method Teacher!
I can't WAIT for you to get your hands on this book!
If you want updates on all the latest news, sign up to my exclusive email list!
Watch Videos of Cascade Method Students Learning From the Chords 1 Book!